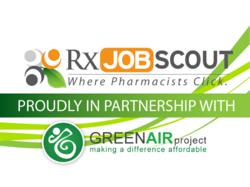 Careers aren't the only future; there's the planet too. We're proud about this partnership that makes Rx Job Scout carbon neutral.
Orlando, FL (PRWEB) December 30, 2011
Rx Job Scout (rxjobscout.com) is proud to announce today its partnership with Green Air Project (GAP) to complete their sustainability goals. This partnership will offset the carbon footprint of Rx Job Scout operations in the most sustainable and positive way, by planting a tree for every 50 Pharmacist Job Posts purchased.
Following a sustainability audit, Rx Job Scout's Managing Partner Nayte Carrick revealed that planting a tree for every 50 Pharmacist Job Posts purchased would be the appropriate carbon offset to Rx Job Scout's carbon emissions.
"After looking at several different options for sustainability, we concluded that Green Air Project's services are the best fit for our organizations sustainability efforts. Planting trees are natural and have little or no adverse effects unlike other new products or technologies that can lead to sustainability issues," says Rx Job Scout Managing Partner, Nayte Carrick.
Sustainability is a major concern that Rx Job Scout puts a lot of thought into. The concept of "going green," is widely discussed amongst business and individuals today and Rx Job Scout management express hope that with this partnership with GAP they are really doing their part in making a difference.
Rx Job Scout itself is an industry leading Pharmacist Job Board designed specifically for Licensed Pharmacist and Employers. The site integrates the latest social media accounts such as Facebook account authentication and LinkedIn profile importing to improve the user experience. RxJobScout.com also features the most robust site search engine of any pharmacist job board on the market. Learn More About Us HERE.
Green Air Project (greenairproject.org)is a dynamic social change organization that enables individuals and
businesses reduce their harsh impact on the environment cost effectively. GAP does this by providing a model of combined positive net effect that brings an economy of scale to social change.
###