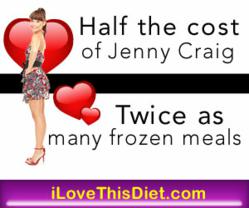 Newport Beach, CA (PRWEB) December 31, 2011
Last October, diet program "I Love This Diet" announced their first-ever cash giveaway to members. I Love This diet set out to celebrate their members' continuing weight loss success by giving them a cash reward of one dollar for every pound shed between September 1, 2011 and Thanksgiving Day (November 24) of the 2011 calendar year. Today, I Love This Diet announces that they will extend the giveaway to (midnight) January 31, 2012.
"Why not get a little extra cash to go along with that slimmer waistline," said I Love This Diet spokesperson Candace Abbott.
I Love This Diet noted that the decision to extend the giveaway came from the enthusiastic responses they received from current participants. "There were many individuals who wanted to to participate, but missed our cut-off date, so we felt it necessary to give a little more time," said Ms. Abbott.
The giveaway, Dollars for Pounds, was initially positioned as a way for dieters to enjoy a little extra cash during the holiday season. Although now, the giveaway is a pleasant way for dieters to recover from holiday spending and begin 2012 with cash in their pockets.
I Love This Diet is the dietitian designed program that providers dieters with a nutritionally balanced way to lose weight. This includes using frozen entrees from Lean Cuisine, Healthy Choice and Weight Watchers Smart Ones, as well as Progresso Soups. Dieters on the plan purchase their meals from their local supermarkets.
The diet is a lower cost alternative to more expensive, celebrity endorsed meal plans. "BistroMD, Jenny, Nutrisystem--they are all great meal plans, however Jenny Craig can easily cost $500 - $600 per month in food and shipping costs," commented Ms. Abbott. "BistroMD is more than $700 per month, including shipping. I Love This Diet users enjoy a delicious frozen meal diet plan for a fraction of the cost of these plans."
Ms. Abbott stresses that I Love This Diet has no relationship with any of the manufacturers of the frozen entrees and soups used in the diet plan. "We choose to use Lean Cuisine, Healthy Choice and Smart Ones frozen meals in our diet program due to their positive nutritional characteristics, as well as their low cost and wide availability."
Once they've purchased the diet, I Love This Diet members download a series of illustrated PDF guides which can be read on any computer, either PC or Mac. The program can be accessed on both iPads and iPhones using the GoodReader App (not included). Dieters are assigned one of four calorie levels of between 1300 and 1600 calories per day, based on their current weight. As they lose weight their calorie level changes accordingly. Dieters are offered a great variety of foods, as well as an assortment of tasty, low calorie, filling snacks from the I Love This Diet Treats Guide to help them stay on track.
I Love This Diet members who would like more information about the Cash for Pounds Giveaway should contact Candace at info(at)ilovethisdiet(dot)com
###