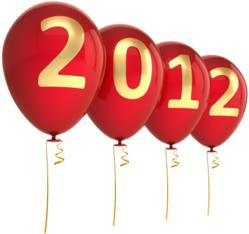 The 2012 New Year's Resolution/Goals/Words Link Up provides a central place for bloggers to come together and share their intentions with the community
Blaine, Washington State (PRWEB) December 31, 2011
Bloggers thrive on community and a perfect opportunity to join together to support each other is sharing New Year's Resolutions and Goals. As 2012 approaches, top mom blog 5 Minutes For Mom, opens up a new link list for their fourth annual New Year's Resolution Blogger Link Up.
As many people give up on the idea of New Year's Resolutions, the bloggers at 5MinutesForMom.com are encouraging their readers to use some form of goal setting for 2012.
While she recognizes that an old style list of unachievable self-assigned rules, such as giving up chocolate on January 1st, doesn't make sense for most, blog co-founder Susan Carraretto suggests "whether you choose to set resolutions, goals or select one or more words to focus your year, January is a great time for a restart. The 2012 New Year's Resolution/Goals/Words Link Up provides a central place for bloggers to come together and share their intentions with the community."
So to keep the open feel for the form of goal setting, the "New Year's Resolution Link Up" is NOT just for resolutions. Bloggers are welcome to share their own intentions for 2012 whether it's as one word, three words, goals, a long list of resolutions or another format entirely.
Susan explains, "I hate to see people lose the opportunity for a restart in January, just because someone else's ideas for the structure of New Year's Resolutions doesn't work for them."
5 Minutes For Mom's New Year's Resolution Blogger Link Up is a blogging carnival where people are able to add a link to a post published on their own website. Then readers click on various links and visit the different bloggers on their own websites. Such blogging carnivals are common at 5 Minutes for Mom as they allow people to meet each other and discover new blogs to read.
###