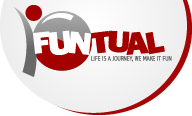 Las Vegas (PRWEB) December 30, 2011
After months of development and testing, online commerce website Funtual.com is ready for release. Penny auctions are a recent phenomenon where users pay-per-bid and the last bidder standing wins the item for the auction price. Often winners pay only a fraction of retail price because value depends on the amount of bids not retail cost of the items. Funtual.com primarily focuses on branded items in the categories of consumer electronics, fashion accessories, gift cards, home entertainment and other popular goods for this reason.
The site differs from other penny auctions by its sophisticated design and simple navigation style. It offers a variety of auction types, some of which are unique to Funtual. Other unique features at Funtual are credit back for lost Bids and a Buy it Now option.
Funtual uses a smart branding around the concept of "fun" with a tag line that reads: "Life is a Journey, we make it Fun".
"We want to bring fun to everyday experiences. Funtual is our first product. It is an inviting shopping environment that brings in fun seekers together with bargain hunters." Ramon Van Meer, Funtual's Marketing Director, "At Funtual, shopping is a fun experience the consumer does not want to miss. Through Funtual's unique premise and community we give users quality entertainment while shopping for their favorite products."
Over the last two months Funtual.com has completed two beta tests offerring participants free FunNotes to compete in auctions and prizes such as Apple iTune Gift Cards to FunNote Bundles. An effort surely to gear up for release as live Information Technology websites are among the most complicated to develop and maintain. Much of Funtual's competition has seen its overnight start-ups and failures, a pitfall the company seems to be in the right track to avoid.
"We're trying very hard to make sure all auctions, transactions and shipments go perfectly," says Mike Miller, an employee at Funtual.com. "It's our goal to have outstanding customer service by dealing with any problems immediately."
The quote comes at no surprise given the companies pledge to service and transparency.
As momentum behind penny auction websites continues to grow, so does the number of market entrants. Funtual.com is based out of Las Vegas and is a member of the Better Business Bureau.
You may visit http://www.funtual.com to view first hand information and updates.
###