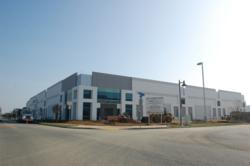 The new LD Headquarters offers the environment and its employees exactly what LD Products ink and toner cartridges have provided for years: a high-quality, economically smart solution that is better for the environment.
Long Beach, CA (PRWEB) December 31, 2011
It has been a banner year for LD Products, a company that has seen strong and continual growth since it opened its doors in 1999. 2011 was the strongest year yet for LD Products, despite challenges presented by a difficult commercial economy. In a year that many companies are facing cutbacks, the multiple award-winning LD Products has added 23 new full time employees expanded at revenue percentage growth rate of 95.6% from 2008-2010. LD Products is moving to a brand new 110,000 square foot, 5.8 acre facility built to LEED Platinum standards, in Long Beach's Douglas Park.
LD Products credits its impressive growth following an economic downturn to three things: Excellent customer service, superior products, and proper use of resources in order to offer a low price and a better impact on the environment. Says Aaron Leon, CEO of LD Products, "We've seen such strong growth in a down economy because we offer a high-quality, low-price alternative to expensive name-brand cartridges. In searching for ways to cut costs, customers have become fans of our product. We are able to retain these customers because they discover that our quality is of the highest standards, and our customer service is unmatched. As the economy strengthens, we have maintained lifetime customers, who have discovered a way to save money on print cartridges that they used to dread having to spend money on." LD Products is able to keep their prices on ink and toner cartridges at about half the cost of the original manufacturer cartridges because they conserve materials used in production. "The result is the same quality you would expect from a big box brand."
"Conserving materials not only allows us to keep our costs low, but also allows us to make a better impact on the environment," says Leon. In 2011, LD Products processed its five millionth customer order since it started in 1999. Each remanufactured inkjet cartridge that LD Products provides saves an estimated average of 2-3 oz. of oil. The typical remanufactured toner cartridge that LD Products provides saves an estimated average of 2- 3 quarts of oil and 2 ½ lbs. of plastic. Approximately 90% of orders are for LD remanufactured ink and toner cartridges. So if you consider the tens of millions of remanufactured ink and toner cartridges that LD Products has sold, you can imagine the positive impact they have had on the environment.
LD Products has taken the concept of building while conserving resources to a new level in 2011 with the construction of its newer, greener headquarters, built in strict adherence to LEED Platinum standards. Because it is outgrowing its current facilities, LD Products is investing in the construction of what is being called one of the greenest commercial buildings in all of California (a state known for its high environmental standards). From its solar panels, plug-ins for electric cars, and low-flow reclaimed water bathroom facilities to its superior air filtration system, gym, and bicycles offered to employees, the new LD headquarters is truly a state-of-the-art facility. LEED Platinum is the highest possible standard by the organization that determines Leadership in Energy and Environmental Design. LD Products moves into the 110,000 square foot facility in January, 2012. To accommodate for LD's 2011 growth, it will be four times the size of their current facility. "I am very proud of the growth that LD Products has seen in 2011" says CEO Aaron Leon. "Our dedicated and hard-working employees have helped grow us to a point where we no longer fit in our current facility."
"The new LD Headquarters offers the environment and its employees exactly what LD Products ink and toner cartridges have provided for years: a high-quality, economically smart solution that is better for the environment" says William Chamberlain, LD Products' Social Media Manager.
2011 AWARDS
2011 marks the 7th year in a row that LD Products has been awarded Bizrate's Platinum Circle of Excellence award for Customer Service. This is an award that was given to only 26 online retailers this year, putting LD Products alongside heavy-hitters like Zappos, Crutchfield, and B&H. This award illustrates LD Products as a standout ink and toner warehouse among its competitors. "We understand that buying online can be frustrating if you don't get the help you need, which is why we put such an emphasis on customer service. We are here by phone, email, social media, and live chat," says Aaron Leon. "Our commitment to our customers does not end at the purchase; rather this is just the beginning of our relationship with them." LD Products sees consistent high rankings in customer satisfaction surveys, and shows a commitment to keeping it that way. They are also a Yahoo 5 Star certified merchant. LD Products' one year, 100% satisfaction policy, and its commitment to excellent customer service has earned it the Stella Service Seal of Excellence, a spot on the Pronto top 100 list, and an A+ rating as an accredited business with the Better Business Bureau.
LD Products was recognized as a Titanium Power Seller, eBay's highest distinction for annual sales. LD Products is also one of the largest office supply retailers on Amazon.
2011 was LD Product's first year on INC5000, a list of the fastest –growing private companies in America. Internet Retailer Magazine ranked LD Products in the top 250 largest online retailers in the nation.
The Los Angeles Business Journal has ranked LD Products #34 fastest-growing private companies in LA County on its exclusive 2011 Fastest Growing Private Companies List.
Long Beach, California-based LD Products added 23 full-time employees in 2011. Over 95% of LD's employees live and work locally; from the marketing department to web design and development, from warehouse resources, to a fully-staffed call and e-response center. LD Products attributes its growth to providing a reliable product, unparalleled customer service, and a fair and reasonable price for printer ink and toner. "We conserve expensive resources, which means we can charge around half the price of your average ink or toner cartridge. It also means we are able to make a significantly better impact on the environment," says Benjamin Chafetz, VP of Marketing at LD Products.
For more information, contact William Chamberlain at WilliamC(at)LDProducts.com 888 321 2552.
###