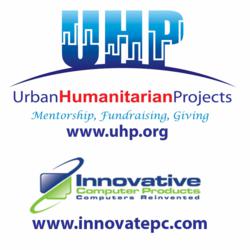 Mastery of computers and the internet will allow our mentees to find and open new doors for themselves.
New York, NY (PRWEB) December 31, 2011
Urban Humanitarian Projects (UHP), a nonprofit organization run by medical students from St. George's University, will be hosting an innovative computer building workshop for high school students on January 7th, 2012. The event will consist of each mentor and mentee working together to assemble a desktop computer that have been completely taken apart, down to the motherboard and processor.
The Build-a-PC will be held at Park Slope Collegiate HS in Brooklyn and will be sponsored by New York based company InnovatePC.com, who will be donating the parts necessary for building the computer systems. UHP and InnovatePC will also be supplying the high school with 5 high end computer systems that GURUS mentees can use throughout the year.
UHP's purpose in hosting this unique workshop is to present an activity that is challenging to both the mentors and mentees, who are just starting know each other. Overcoming the challenge together will help the pair develop a bond and also show the students the importance of perseverance.
"We want each of mentee to develop a deep appreciation for computers because a tech-savvy student in today's society has a world of resources at their fingertips," said Santhosh Cherian, Executive Director of UHP. "Mastery of computers and the internet will allow our mentees to find and open new doors for themselves."
The GURUS Project (which is an acronym for Guidance, Unity and Resources for Urban Success) focuses on empowering high school students with the tools and confidence necessary to be successful in the academic world. The program will use traditional one-on-one mentoring model in combination with group workshops to ensure that students have a strong support system from their mentors as well as their peers. UHP's group workshop will focus on educating the mentees on how to use technologies such as Google Calender, Google Docs, and various other sites to become a more efficient student.
UHP, in conjunction with the New York City Department of Education, trained the mentors and mentees and worked with the Principal and educators to ensure that the program is fit for all participants. The GURUS Mentorship Program was developed by a group of medical students from St Georges University who believe in the value of education and are determined to help fix the increasing dropout rates at New York City high schools.
GURUS kicked off the mentorship program on December 10, 2011, at the high school, where the UHP team hosted icebreakers and Christmas gift-wrapping.
"Our organization was in the middle of our annual Urban Santa Project program, so we decided to bring gifts that were going to be donated to various shelters, so that the mentors and mentees could wrap them together," explained Maria Lagopoulos, GURUS Project Co-coordinator. "This was a huge success as it served as both an icebreaker for our mentorship pairs as well as a collective community effort in the spirit of the season."
Lagopoulos, along with UHP team member Irem Kaplan are coordinating the program with Park Slope Collegiate High School and the Department of Education's New York City Mentoring Program.
Urban Humanitarian Projects (UHP) is a student-run non-profit 501(c)3 charitable organization founded by St. George's University medical students (Grenada, West Indies) completing their medical training in New York City. UHP's mission - to improve the education, healthcare, and quality of life of the underprivileged – is supported by working with established charities throughout the United States and abroad to make a positive impact in the lives of disadvantaged children and adults. UHP past projects include the annual Urban Santa Project - Christmas day gift delivery, GURUS High School Mentorship Project, and a semi-annual video game tournament fundraiser event which raised over $100,000 for humanitarian projects worldwide. The organization's tax-exempt fiscal sponsor, FJC, a foundation of philanthropic funds, allows start-up programs to utilize their services to accept donations and operate as a legal entity. FJC maintains the organization's financial records, assisting in donor relations and all legally-mandated monitoring and reporting. UHP is fully supported by St. George's University and its administration. http://www.uhp.org
###