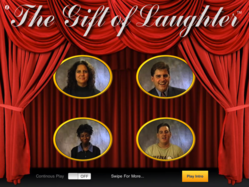 The best thing about all those new iPhone and iPad Christmas gifts is that they keep on giving
Rochester, New York (PRWEB) December 31, 2011
With the gift-wrap already recycled or on the trash heap, many new iPhone and iPad owners are searching the Apple iTunes Store for exciting and useful apps to enhance their new tech marvels. But with so many apps to choose from and with searching for apps notoriously a very hit or miss proposition on the Apple iTunes App Store, it's good to have some help in making choices. Fred Burger, the developer of "The Gift of Laughter" app has selected 6 other popular humor oriented iPhone/iPad apps that can turn an iPhone or iPad into a great resource for fun. What better way for a user to get started than with a new and powerful gift?
1. The Onion
Price: Free Works with: iPhone, iPod Touch, iPad
The Onion, one of the best satirical news sources, is essentially an iPad magazine, although it's available on the iPhone and iPod touch as well (the iPad version is called The Onion Tablet, while the iPhone/iPod touch app is simply named The Onion). The grid-style layout on the front page will be familiar to users of apps such as The New York Times. Navigation is reasonably quick, if a little jerky at times.
Once The Onion app has downloaded the week's content from the site - of which there's a decent amount - one can read it whether online or not, which makes it useful for comedy fans without a mobile data connection. But certain features, such as video, take a while to download.
At its heart it's still The Onion, which means it's satirical genius at its best, and the app rolls in almost the same amount of content as the physical newspaper. The text stories in it are cuttingly sharp, and the info-graphics are high-resolution and hilarious.
One of the greatest features though, is the parody video reports, aping the 24-hour news networks with a constant churn of ridiculous stories. Production values in these videos are surprisingly good, and a reader will chuckle to himself and want to share them with friends and co-workers.
2. 18,000 Cool Jokes
Price: 99¢ Works with: iPhone, iPod touch, iPad
An enormous collection of all kinds of jokes. They are organized by a very user-friendly and helpful interface design. The nicest thing about this app is that it provides everything right at your fingertips. No internet connection is required. The built in algorithm helps to select the jokes you will like best based on your ratings of the jokes your read.
One word of warning though, this app contains age restricted material – dirty jokes – so makes sure it is something you want on your iPhone or iPad. But, well worth a look.
3. The Gift of Laughter
Price: 99¢ Works with: iPhone, iPod Touch, iPad
VisionsMedia has created a unique and easy delivery device for inducing laughter in short order. "The Gift of Laughter" – is available for just 99¢ and it's the best buck you'll ever spend towards your well-being. Leaving the stress and anger of the world behind can be very beneficial to your health. "The Gift of Laughter" app provides 50 different laughing people who are clearly having a great time. It's the quickest way to deliver a laugh directly to the brain.
Research shows that watching a funny movie or television show aids vascular function, while a stressful or scary movie narrows blood vessels according to the research presented. The findings of the research confirm previous studies suggesting a link between mental stress and the narrowing of blood vessels according to Michael Miller, lead researcher at the University of Maryland School of Medicine in Baltimore.
"The take-home message here is laughing is great for your heart." Miller said. "It suggests that if you are having a really bad day, and you are having a lot of stress, you can reverse that in a matter of minutes," he said. "It's not only reversing your mood, it's reversing your vascular function. That's great news for the heart." And not bad for the funny bone either.
4. Mega Collection of Classical Comedy Shows
Price: $1.99 Works with: iPhone, iPod Touch, iPad
For the true comedy lover these golden nuggets of the 50's and the classic era are sure to please. When you start browsing through the app you will realize its true power to bring us back to a special time for comedy. The makers of this app sorted the shows into separate sections, so that finding favorite shows will is quite easy. There are more than 40 Classical comedy series in this app and the makers plan on adding more in the future.
Some of the classic comedy episodes include greats like Groucho Marx, Abbot and Costello, The Three Stooges and they even reach back to Buster Keaton and The Little Rascals. This is a collection that will offer the viewer many great moments of the giants of classic comedy.
5. The Colbert Report's The Word
Price: $1.99 Works with: iPhone, iPod Touch, iPad
This hilarious compilation of Stephen Colbert delivering "The Word" segments from his Comedy Central show is a great selection of timeless comedy creations that is guaranteed to provide a good laugh or two.
When you download this app, you get every Word by date or you can search alphabetically. The developers of this app have also included a very useful "random Word" function that can just surprise you every time.
6. Jokes.com by Comedy Central
Price: $1.99 Works with: iPhone, iPod Touch, iPad
This app offers a broad selection of jokes from everyday old classics to jokes about technology. The app makes it easy to find all kind of categories of jokes. It also offers a random selection wheel that when taken for a spin spits out all kinds of jokes that can delight and challenge ones sense of humor.
Options include jokes about "Yo Mama" and the always strong standby "Walks into a Bar" jokes. The app allows the user to access the entire Comedy Central archive and the "Joke of the Day" option ensures that one can have a ready joke when the moment is right.
7. Funny or Die by Funny or Die
Price: Free Works with: iPhone, iPod Touch, iPad
This app taps into the hilarious humor developed by Will Ferrell and friends that started with the Funny or Die web site. It offers free videos of the Funny or Die sketches as well as a search engine that allows the user to delve into the large Funny or Die archives.
About Fred Burger
A writer, photographer and filmmaker, Burger ran a busy corporate design and production company for over 17 years. His clients included many Fortune 500 companies. He's an award-winning documentary filmmaker whose work has been aired nationally on the Public Broadcasting System. Since 2001, Burger has been a professor, teaching screenwriting, photography, video production and filmmaking to students at Monroe Community College in Rochester, NY.
Media Contact
Fred Burger can be reached at (917) 647-8152 or fburger(at)visionsmedia(dot)com
The web site for "The Gift of Laughter" can be found at: http://www.the-gift-of-laughter.com
"The Gift of Laughter" app can be downloaded at: (or search the app store for "laughter")
http://itunes.apple.com/us/app/the-gift-of-laughter/id428139499?mt=8#
###