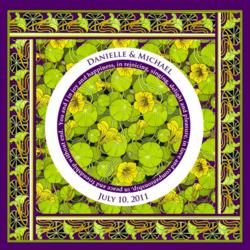 "It becomes a family heirloom and a source of pride in the family as an important piece of art passed down from generation to generation. It makes me very proud to be part of this important tradition."
Rochester, New York (PRWEB) December 31, 2011
Recognizing the demand for versatile and unique designs for wedding canopies — also known as "chuppahs" — Debra Burger, an innovative graphic artist and designer has launched a new website — http://www.OurChuppah.com — to offer a wide variety of choices for brides and grooms looking for something special to enhance the wedding ceremony.
"When my own daughter was married, we discussed her desire to have something special, something that would be remembered long after the event was over," says Burger. "So we researched the options that were available and found that there were not many options for something unusual and memorable. It was then that I decided to design my own special version of the traditional wedding chuppah. The result was so well received that everyone who saw it encouraged me to create other designs for their friends and family. It was there that the idea for a website offering my designs was born."
The wedding canopy is a very important part of the wedding ceremony within the Jewish faith. It represents many things for the bride and groom — their home together, the open sides welcoming family and friends to share their joy and the commitment they are making to stay together through all the passages of their life.
The canopy is made of a fabric that includes an ornate and beautiful design. The design includes an appropriate sentiment in words chosen by the bride and groom and the date of the event. It is secured to poles at each of the four corners that are either freestanding or held up by honored members of the wedding party.
The custom has become so well thought of, that even non-traditional ceremonies and non-Jewish brides and grooms are embracing this charming way of demonstrating their commitment to one another.
In addition to its use within the wedding service, the chuppah becomes part of the wedding reception as the perfect backdrop for the cutting of the cake and later hung in the home as a reminder of the special day.
"Many couples even pass on the canopy to other members of the family and add their own names and dates, says Burger. "It becomes a family heirloom and a source of pride in the family as an important piece of art passed down from generation to generation. It makes me very proud to be part of this important tradition."
Burger plans to expand on the designs that are currently on the OurChuppah.com website and also offers her designs as framed prints to be used a gifts for wedding anniversaries and special occasions.
For more information on the background of the wedding canopy, a complete gallery of images and a list of frequently asked questions, go to OurChuppah.com or contact Debra Burger at 917-576-4509 or info(at)ourchuppah(dot)com
###