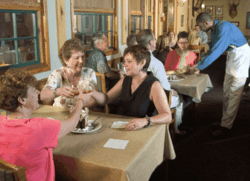 For survival in the New Year, the focus must be on the customer!
Greenville, South Carolina (PRWEB) December 31, 2011
Despite the economy surging for the December holiday season, many Independent restaurateurs are pessimistic about the coming New Year.
Restaurant Marketing Coach and author of "The 5 Hour Restaurant Work Week: Work Less, Make More and Have a Life, too," Edmund Woo, says, "Realistically, the upcoming New Year will be a very tough year to grow one's restaurant. The hard economic times, the struggling housing market, blossoming national deficit, etc., all create uncertainty and therefore difficulty for Independent Restaurants. I believe the only way through this quagmire is for Independent Restaurants to renew their focus on their customers!"
The three areas of customer focus in a restaurant marketing plan should be:
1. Create relationships with one's customers. One major advantage of Independent Restaurateurs is that they are not "faceless" corporate entities. They have ties to their communities. They know their customers. And, given that their food and service are equivalent to the corporate chains, many customers would rather buy from someone they have a relationship with.
2. Find more customers like one's best customers. Independent Restaurants cannot afford to be on the defensive even though times are hard. They must use proven restaurant marketing ideas to carve out their own market share. They must explore every restaurant marketing idea to procure more customers.
3. Finally, in addition to not just finding more new business through a well thought out restaurant marketing plan, Independent restaurants must motivate their customers to come back more often. To do this, the Independent must continually renew his concept and his food as well as create events built around their food and seasons/holidays that give their customers more reasons to come back.
Edmund concludes, "If an Independent Restaurateur will renew his focus on his customers in these three areas, he will multiply his chances for survival and success!"
Edmund Woo's mission is to educate Independent Restaurateurs that they can work less, make more and have a life, too in the restaurant business. He dispenses free business-building advice for independent restaurateurs through his online blog, http://5hourrestaurantmarketing.com. The free service details Edmund Woo's researched and refined restaurant marketing plan proven to get new restaurant customers. Edmund Woo's blog is becoming a weekly diet to help independent restaurateurs avoid starvation and cultivate growth.
Besides his restaurant specific marketing blog, Edmund Woo offers a free audio report called, "New, Easy to Use Ideas to Fill Your Tables...Even in Today's Fierce Restaurant Environment," a glimpse of what his 5 Hour Restaurant Work Week System offers at http://www.independentrestaurantmarketing.net
###