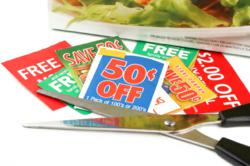 5 Minutes for Deals is more than an individual blog, it is a hub to connect readers within the community
Blaine, Washington State (PRWEB) December 31, 2011
There is a secret language in the extreme couponing world with notations like "$1/2", "OOP", "WYB". 5 Minutes for Deals has launched an in depth resource page pulling resources from throughout the coupon blogging community.
5MinutesforDeals.com, which is part of the 5 Minutes for Mom blog network, is a coupon and deals blog dedicated to bringing together resources from the coupon blogging community and helping readers quickly and easily benefit from coupons and deals.
Janice Croze, one of the site founders, explains, "Our vision for 5 Minutes for Deals is to enhance the fabulous existing community of coupon and deal bloggers and help our readers find easy ways to save money everyday in these difficult times."
The site which was launched in August 2011, has many expert coupon and deal bloggers contributing and will be expanding their writing team in 2012.
Ms Croze follows with, "like it's parent site, a leader in the mom blog community, 5 Minutes for Deals is more than an individual blog, it is a hub to connect readers within the community."
The new Coupon Lingo Resource Page features an open link list where other bloggers can add links to their own websites. 5 Minutes for Mom often uses such "blog carnival" style lists to help bloggers and readers grow their reach within the community. The Coupon Lingo link list is the first of many to come at 5 Minutes for Deals.
###