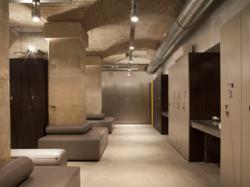 Gymkit UK can now offer a complete fit out solution for clubs, supplying all the gym equipment and now changing room furniture and lockers - no other company offers such a comprehensive range
(PRWEB UK) 31 December 2011
Gymkit UK has announced an exciting new deal with Fit Interiors to become the sole distributor of luxury Italian changing room facilities for gyms in the UK.
Italian-based Fit Interiors are Europe's leading manufacturer of high end quality locker room facilities and reception counters, and now, for the first time, British gyms can benefit from the deal.
Gymkit UK's Managing Director, Howard Braband, said he was delighted to sign such an important deal for the UK's fitness industry: 'We chose Fit Interiors simply because they are the best! We have chosen to sell lockers as part of our product portfolio because it enables us to offer a complete fit out solution for clubs – we can supply specialist gym equipment, both new and refurbished, aerobic studio equipment, free weights, and now changing room furniture and lockers – no other company offers such a comprehensive range.
'Therefore, we are very proud to represent Fit Interiors and have already received our first order, to fit out the showroom gym at Johnson Matrix's head quarters in Stoke. We also have some very strong interest from a number of large health club chains.'
Fit Interiors' Export Manager, Giovanni Amati, said he was very pleased to be associated with such an established and trusted company like Gymkit UK: 'With the Fit Interiors brand, Gruppo P&G is proud supplier of many important gym chains all over Europe and the Middle East, and can also boast locker room projects in Nestle's headquarters in Switzerland, and in luxury hotels like the Intercontinental and the Crowne Plaza.
'Finding Gymkit UK has been a key encounter for us, and we are convinced that we have found the best partner in the market. We appreciate the huge focus on service and networking which characterises Gymkit UK, and we are confident that the solid reputation they have gained in the UK market will greatly benefit Fit Interiors as well, as our brand gets introduced in Britain.'
Fit Interiors' environmentally-friendly lockers and benches are made using melamine wood, with the highest water resistance, and all reception desks are handcrafted to the highest standards and according to customers' requests.
Giovanni added that Fit Interiors knew Gymkit UK were the right company to help sell their brand here after experiencing their excellent customer service from the very beginning.
He said: 'The human relationship that has already ensued and that is constantly building between us is exactly what we look for in a distributor. We are extremely happy with this cooperation and are confident it will grow and go a long way.'
The Fit Interiors deal will only serve to strengthen Gymkit UK's impressive portfolio of services. They are already one of the leading suppliers of pre-owned commercial fitness equipment in Europe, and with more than 5500 machines in stock they can supply all makes and models for the most competitive prices.
Gymkit UK supply all of the major fitness brands, such as First Degree Fitness, Star Trac, Life Fitness and Polar, providing commercial and private customers with everything from treadmills, exercise bikes, fluid rowers and steppers, and so much more. All machines are serviced by a team of experienced and highly skilled engineers and come with a full parts and labour warranty.
Now Gymkit UK can also supply gyms with the very best in changing room facilities, as well as all of their gym equipment.
For more information on how Gymkit UK can help kit out your gym, from locker rooms to fitness machines, visit http://www.gymkituk.com, or contact Howard Braband on 01733 205551.
###