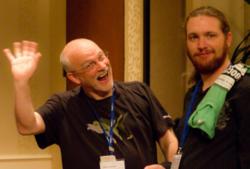 Release 1.4 features are bound to be a hot topic
Portland, OR (PRWEB) December 31, 2011
DjangoCon 2012 comes to Washington, DC just two short months before the upcoming presidential election. The conference will be held from September 3-9 at the Hyatt Regency, Crystal City.
After 50% year-on-year growth in Portland in 2011 The Open Bastion's Steve Holden is cautiously optimistic: "The local Django community has already appointed a local chair and begun searching for a suitable sprint venue in the area. With the new location easing travel issues for several significant clusters of Django usage we hope that many new delegates will join those returning to DjangoCon in 2012."
As the Django project heads towards release 1.4 the new features the release will add are bound to be a hot topic in 2012. The tutorials instituted in 2011 were so popular that the program will be enlarged. The principal draw as ever, will be the presentations from some of the best and brightest minds in the Django community.
DjangoCon is one of a new breed of conferences blending professional organization with open source community efforts. It is run on behalf of the Django Software Foundation.
###