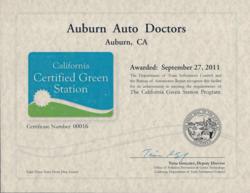 Auburn Auto Doctors is the first and only green certified repair station in Auburn, CA
Auburn, CA (PRWEB) December 31, 2011
Auburn Auto Doctors of Auburn, CA has become the first auto repair shop in the area to obtain certified green station status. The green station program is a partnership between the Department of Toxic Substances Control (DTSC) and the Bureau of Automotive Repair (BAR) in an effort to reduce waste and toxic emissions from repair facilities. This includes such things as replacing solvent cleaners with aqueous (water based) solutions for cleaning parts, preventing spills of vehicle fluids with routine practices, and waste reduction throughout the facility.
Auburn Auto Doctors is committed to setting a good example, promoting a healthy community, and a safe environment that we all live in and enjoy. Not only did we meet, but we actually exceeded the necessary requirements to become green certified. As of September 27, 2011 we are the first green certified auto repair shop in Auburn, CA and only the second one in all of Placer county. Currently there are only about 70 green certified stations in the entire state of California. A copy of our certificate can be viewed on the website
Auburn Auto Doctors is owned and operated by Wayne Trimble and Rick Wallen who are both longtime residents of Auburn, CA. Wayne has worked in auto parts and as an automotive shop service writer over the last 12 years. Rick Wallen started working in the mechanic field working on heavy equipment and machinery at Beeler Tractor in Auburn, CA. After working there for three years he moved on to Gold Rush Chevrolet for the next 2 years and then to Gold Rush Subaru of Auburn, CA for the following three years. He has most GM training classes offered and is fully factory trained and certified in Subaru vehicles.
At Auburn Auto Doctors we strive to deliver the best repair possible including using the highest quality parts available. We offer a nationwide 12 month / 12,000 mile warranty which means that even when you are away from home, any repair done with us is fully covered at another certified repair facility in the United States. We employ the latest automotive equipment to efficiently diagnose your vehicle without wasting any costly time spent guessing.If you need your car fixed right the first time, give us a call at Auburn Auto Doctors.
###