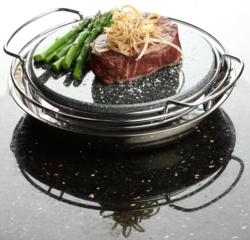 With our 2012 New Year's special, people can eat healthier while enjoying more exciting, delicious and entertaining meals all year long
San Jose, CA (PRWEB) December 31, 2011
Rok Cooking is making it easier and more affordable for diners to enjoy hot rock cooking year round. During the month of January 2012, customers will save an additional $20 off the purchase of any case of Home Cooking Sets. Now get a case of 8 sets of HCS-201S or 5 sets of HCS-101C for only $259.95 and save nearly $60 and $40, respectively, off the regular price.
Rok's Home Cooking Sets are perfect for those whose New Year's resolutions include healthier eating. Cooking on a rock is the most natural and healthy way to cook, not to mention incredibly delicious and more tasty than any other cooking method. Meat sears completely on the superheated, flat volcanic stone, locking in all the juices, nutrients and natural flavors. Discover how our earliest ancestors used hot stone cooking to create simple, healthy and succulent meals.
Rok's Home Cooking Sets are great for entertaining, ideal for families on the go, and can be used indoors or out. Create unique, amazing and gourmet meals easily and effortlessly. Simply heat the rok for several minutes on your stove and take it to the table where each diner cooks their own meat to perfection.
Steve Wright, President of Rok Cooking, says, "With our 2012 New Year's special, people can eat healthier while enjoying more exciting, delicious and entertaining meals all year long"
About Rok
Rok is the leader in the design, manufacture, and distribution of rock cooking products for restaurants and consumers. Their products are the highest quality and most affordable rock cooking products on the market. Rok is modern stone-age cooking at its very finest. For more information, visit http://www.rokcooking.com
###