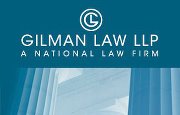 "If you are suffering pain or any adverse side effects following a transvaginal surgical mesh procedure or a bladder sling device, Gilman Law LLP is here to help. "

Naples, FL (PRWEB) December 31, 2011
Gilman Law LLP, a leading national law firm with over 30 years of experience protecting the rights of victims is actively investigating complaints involving complications with the use of transvaginal surgical mesh and bladder slings to treat pelvic organ prelapse (POP) and stress urinary incontinence (SUI).
According to the FDA Tranvaginal Surgical Mesh injury signs and symptoms may include:
Painful erosion of mesh into the body
Serious infection
Recurrence of pelvic organ prelapse or stress urinary incontinence
Vaginal pain and scarring
Pelvic pain
Painful intercourse
Perforations of the bowel and bladder
Damage to nearby organs
FDA Issues Warning on Transvaginal Surgical Mesh
In July 2011 the U.S. Food and Drug Administration issued a warning stating that serious complications involving the use of surgical mesh to treat pelvic organ prelapse (POP) and stress urinary incontinence (SUI) were occurring with increased frequency. Specifically the FDA stated that (i) Complications related to transvaginal mesh surgery are NOT rare; (ii) There is no evidence that transvaginal mesh repair is more effective than traditional non mesh repair; and (iii) Transvaginal mesh surgery exposes patients to greater risk than traditional non mesh repair.
This was the FDA's second notice about problems with tranvaginal surgical mesh in three years and the agency noted that since its initial warning the rate of reported incidences with the device had nearly tripled. There were about 1000 adverse effects reports involving transvaginal surgical mesh used in pelvic organ prelapse and stress urinary incontinence procedures between 2005-2007 and nearly three times as many reports in the years since.
What Is A Transvaginal Surgical Mesh?
Transvaginal mesh and bladder slings are medical devices made of polypropelene mesh and used in the treatment of pelvic organ prelapse (POP) and stress urinary incontinence (SUI). SUI is a bladder control disorder affecting millions of women and is caused by weak muscles due to age, childbirth and other issues. POP, a condition that effects 1 in 11 women, occurs when the pelvic organs slip out of place due to muscles weakened by age, childbirth or hysterectomy. The companies that produce these medical devices include Johnson and Johnson under the brands Ethicon and Gynecare; Boston Scientific under the names Pinnacle, Prefyx, Advantage and Obtryx; C.R. Bard under Avaulta and Pelvitex and American Medical Systems as BioArc, Apogee, and Elevate.
Legal Help for Victims of Transvaginal Mesh Side Effect Complications
If you or someone you know are experiencing pain or suffering any adverse side effects following a procedure where transvaginal surgical mesh or a bladder sling device was used, Gilman Law LLP is here to help. For a free evaluation of your case, please fill out the online form on the left or call Toll Free at 1-888-252-0048.
Contact:
Gilman Law LLP
TEL: 1-888-252-0048
Beachway Professional Center Tower
Suite 307
3301 Bonita Beach Road
Bonita Springs, FL 34134
###