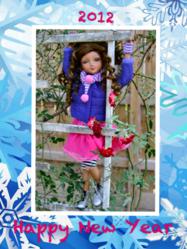 Happy New Year!
Houston, TX (PRWEB) December 31, 2011
What a spectacular debut year for MiM Dolls! MiM Dolls have garnered a wonderful reception making this a very special holiday for a very small toy company. Make it Mine LLC (MiM) has been fortunate enough to be able to provide kids with beautiful premium dolls that are customizable and poseable with friendly faces for hours of MiMaginative play. In 2011, MiM debuted the first ever converti-doll - kids can change the wigs, change the eyes, dress her in cool fashions and even change body parts. The torso comes apart and kids can change their doll into a mermaid or a centaur. 2011 marks the beginning of a revolution in doll play – kids write their dolls' stories, make their doll any character they want her to be and use their self expression to individualize their fun.
With the debut of their new toy company, this year has seen the realization of a long-time dream for sisters Paulette and Annette Goodreau (owners of Make it Mine LLC). They love people and have open and generous hearts, characteristics that come through in the designs for their spectacular doll line. The two sisters hope the New Year brings peace, love, happiness and hours of fun play for everyone. They are busy with the design and creation of 2012's line. You can catch a glimpse of Chief Designer Paulette Goodreau on pinterest, she is also the voice behind MiM's facebook page and tweets. So if you would like to know more about making dolls, designing doll fashions or what lies ahead for MiM Dolls, then head over to facebook or follow Mim on Twitter.
"Happy New Year!", says the MiM team and remember to be safe and celebrate in a grand and responsible style.
Visit the website at http://www.mimtoy.com to see all the new products, and watch this little company grow, and bring unique and customizable toys to the world of play! At MIM they love everyone to use their MiMagination and experience all the MiMagic that Make it Mine can produce!!
###