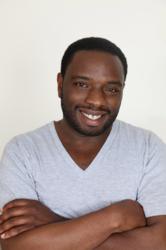 It was important for me to be invloved in this exciting project to represent the importance of video and performance in today's arts discussion.
New York, NY (PRWEB) December 31, 2011
Created and Directed by CJ Follini, Art/Trek NYC takes viewers on a journey through the five New York City boroughs with the mission to find an artist to showcase with a solo exhibit of their individual work for the first time to the public. Traveling with the ArtV, a graffittied, mobile art gallery ( formerly a recreational vehicle), the Hosts which include such cultural luminaries as: video and performance artist, Kalup Linzy (Le Petit Versailles, All My Churen) and Curator Wayne Northcross (The Bronx Biennial, The Project Gallery) and legendary guitarist Vernon Reid, guide the emerging artists in the selection of their artwork to install in the ArtV. alternative art space.
Then the mobile art gallery takes the work "to into the street" for an impromptu, raw critique by their neighbors and peers. All episodes contain music from MTA Arts for Transit "Music Under New York" program performers.
Art/Trek NYC will air six half-hour, unscripted episodes offering viewers a documentary-style expedition into New York City's art scene where the sixth and final episode presents the winner and the unveiling of their first public art show. The show airs every week and premieres Monday, January 9, 2012 at 9 p.m. on NYC Media Channel 25.
About Welcome to COMPANY:
Welcome to COMPANY is an online/offline social network connecting collectors of contemporary art that provides compelling content, an on-line art exchange and original art works from emerging artists for sale commissioned by COMPANY. With the debut of its off-line networking salon - The Collector Series - and its cable TV show - Art/Trek NYC – COMPANY offers advertisers a multi-platform advertising opportunity to a highly sought-after targeted demographic. Welcome to COMPANY.
###