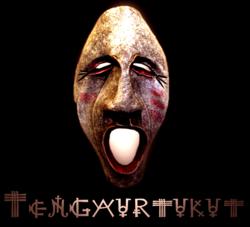 Ancient native Alaskan verse combined with hip-hop tantalizes the soul and spirit
Hood River, OR (PRWEB) December 31, 2011
This is the first official album from Native American artist Phillip "Aarnaquq" Charette and producer, performer MR.ELIVE. Traditional Yup'ik Alaskan verse over authentic hip-hop beats creates a new sound that is already being played in native dance venues as early copies have found their way north to Alaska and are also now requested in dance clubs throughout the Northwest.
The album's title, hard to pronounce, is in traditional Yup'ik and loosely translates to 'we are flying'. Seven songs in all - this first album sets the bar where it will be hard for others to mimic without paying homage to these two pioneers of a ancient but new style.
Phillip Charette is an Oregon resident of Alaskan Native and French Canadian descent and is a Harvard graduate. He is a well-known artist who honors his Alaskan Native Yup'ik culture through his music and art. Along with his music, Phillip is internationally renowned for his contemporary expression of traditional Yup'ik masks. His medium consists of wood, clay (raku and horsehair fired), porcelain glass, bronze, copper, and various other materials, as well as monotype printmaking. Phillip's work has been shown at the Smithsonian, Eiteljorg, Bishop, Hallie Ford, Washington State History, and Heard Museums. In 2006, Phillip was honored with the Artists Choice award for one of his sculptures at the Santa Fe Indian Art Market, and in 2008 he received the Best of Division and First Place awards for one of his "Medicine" series mono type prints. He also designs and sells Native flutes and drums. Phillip has been featured on Oregon Public Broadcasting's "Oregon Art Beat" for both his art and music. Phillip was recently awarded a 2009 SWAIA Fellowship. This coveted Native American Fellowship through the Southwestern Association for Indian Arts went to only 5 applicants this year. Phillip's award has helped him diversify into outdoor metal sculpture reminiscent of his existing work.
In 1997, Phillip began making Native American wooden flutes. He has since mastered the art of making his own style of concert quality Native American flutes in hardwoods and low fire clays, specializing in large bass flutes. Phillip writes his own songs and has been performing for six years. He is a member of The International Native American Flute Association and Phillip's flute playing is featured prominently throughout the ablum.
For more information, media interviews or to review or purchase the album visit: http://www.mrelive.com
###