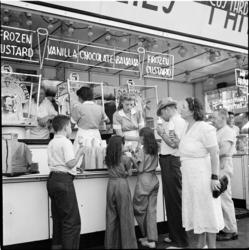 New York, NY (PRWEB) December 21, 2011
The Museum of the City of New York, located at 1220 Fifth Avenue at 103rd Street, is celebrating the holiday season with free, artisanal, made-in-Brooklyn Blue Marble ice cream sandwiches. Given high ratings for their certified organic ice cream by Time Out New York, New York magazine, The New York Times, Village Voice, and most recently seen on WNBC's Today show, Blue Marble makes their ice cream sandwiches with chocolate chip and other choices of outside wafer.
Offer good December 23 through January 2 or as long as supplies last.
Only one ice cream sandwich per visitor will be provided.
Museum of the City of New York
Open daily 10 am to 6 pm.
Currently on view:
Kevin Roche: Architecture as Environment through February 5
Cecil Beaton: The New York Years through February 20
The Greatest Grid: The Master Plan of Manhattan, 1811-2011 through April 15
The Unfinished Grid: Design Speculations for Manhattan through Apr 15
Police Work: Photographs by Leonard Freed, 1972 - 1979 through March 18
Timescapes: A Multimedia Portrait of New York - Ongoing
# # #