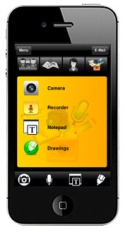 In the event of an accident, looking after the medical needs of those involved should always be handled first
Newburgh, NY (PRWEB) February 11, 2011
No one ever plans on being involved in a motor vehicle accident, but if you are, Finkelstein & Partners, LLP, is proud to introduce a new smart phone application that will help protect your interests and capture the details of the accident scene to help you receive maximum compensation.
The F&P Car Accident Toolkit is a free application that can be easily loaded onto any iPhone or Android mobile phone. The app includes a camera, voice recorder, notepad, drawing board, built-in GPS, and contact sheet for important personal information.
"In the event of an accident, looking after the medical needs of those involved should always be handled first," said Andrew G. Finkelstein, managing partner of Finkelstein & Partners, one of New York State's largest personal injury law firms. "The appropriate authorities should also be called to assess the scene. Then, if you're able, you can record all the important details of the accident site with the new F&P car accident toolkit app. This fact collecting function is key to ensuring our clients receive the compensation to which they're entitled following an accident," adds Finkelstein.
"As the parent of a new driver it is also comforting to know that if my child is in a fender bender he has a tool that will walk him through the process of collecting the other driver's insurance information and other details critical to making an insurance claim." continued Finkelstein.
Using the smart phone app you can take pictures of the scene, record your recollection of the incident, note the weather, lock in the location and once you are done, email it all directly to your attorney at F&P.
The F&P car accident toolkit includes:
1. Built-in utilities, such as camera, voice recorder, text notepad, and drawing pad.
2.Data sheet to collect information from multiple parties, such as the other driver, witnesses, and Injured .
3. Automatic GPS location identifier to automatically retrieve street names, city, and state
4. Email access to easily send your information to F&P through a single email report.
5. One button dialing for 911 emergency assistance or instantly connecting with your F&P legal team.
6. FAQ section - Contains important information that you would need to know before and after a car crash.
For detailed download instructions and links to the App stores to download Finkelstein & Partners' new Car Accident Toolkit application, visit the firm's website at http://www.lawampm.com.
The link to the iPhone version is: http://itunes.apple.com/in/app/car-accident-toolkit-by-f-p/id398187753?mt=8.
The link to Android version is: http://www.androidzoom.com/android_applications/productivity/car-accident-kit-by-fp-v50_nwgi.html.
"It's important to remember that drivers should never use their smart phone applications or text while driving," cautions Mr. Finkelstein.
Headquartered in Newburgh, NY, Finkelstein & Partners, LLP has been successfully serving clients for more than 50 years. Offices are located throughout New York and New Jersey and services include: Personal Injury, Social Security Disability Benefits, Workers' Compensation, Veterans Services, and a complete range of personal legal documents and letters. To learn more, visit the firm's website at http://www.lawampm.com or call 1-800-Lawampm / 1-800-529-2676.
###