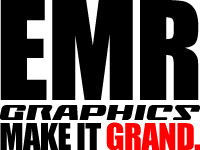 EMR Graphics is the client that every agency dreams about
Philadelphia, PA (PRWEB) February 17, 2011
Zamolution announced today that it has been named agency of record for EMR Graphics, a leading large format print company headquartered in New Jersey. The agency will provide online marketing communications for EMR Graphics, including social media, SEO / SEM, and online creative media.
"EMR Graphics is the client that every agency dreams about," said Jim Zamichieli, president and founder of Zamolution. "They are consistently pushing the digital printing limits and taking it to a whole new level. Once the online word starts to spread, I'm positive they will go from the 'best kept secret' in the large format print industry, to the 800-pound gorilla."
"Our business has experienced tremendous growth based on referrals and simple word of mouth, but it's time to take it to the next level," said Eric Rosencrantz, CEO of EMR Graphics. "We knew Zamolution's reputation for driving brand awareness and increasing the online footprint of companies such as ours, so we are anxious to have Zamolution do the same for EMR Graphics."
About EMR Graphics
EMR Graphics is a full-service digital printing company with offices in New York City and Randolph, New Jersey. The company specializes in large format and wide format print, including commercial signage, vehicle wraps, fleet graphics, custom wall murals, point-of-purchase displays, vinyl banners, and window graphics. Their portfolio of clients includes the who's who of transportation, retail, food & beverage, hospitality and automotive industries. Visit http://www.emrgraphics.com to find out more about EMR Graphics.
About Zamolution Technologies
Zamolution is a boutique marketing and communications agency that provides customized marketing solutions to companies across various industries. Through a strategic combination of Web Design, Content Development, User Architecture Design, SEO, SEO, Public Relations, and Social Media, they create lasting digital footprints. Their intellectual horsepower could power an aircraft carrier. For more information on this Philadelphia-based company you should be working with, visit the Zamolution website.
###