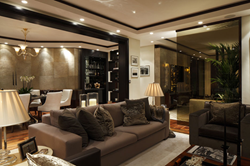 (PRWEB) February 19, 2011
Casa Forma adds another bespoke luxury property to its collection of high end residential properties in London. Set across 260 sq. m, the splendid lateral four bedroom flat spreads across the 3rd floor of a Georgian pottered building offering a discerning choice of residence appropriately called 'The Manor'. Perfectly placed in the heart of the prestigious and elegant streets, Davies Street is discreetly located between the Grosvenor Square and Bond Street in Mayfair, London's most exclusive district neighboring well known restaurants and boutiques.
Casa Forma has designed the architecture through an extensive amount of stripping out and demolition work in all rooms to create unique lateral space with uninterrupted views. The floor has been designed with exceptional materials to create a sophisticated environment using an outstanding selection of natural materials including a mixture of stained walnut, ebonized and ebony macassar timbers. Moon Onyx cladded to the entrance foyer walls with back lighting bestows a subtle glow, bronze trims designed to frame the onyx seems as if it were a piece of art. The setting completely reflects understated luxury, very true to Casa Forma's design philosophy.
The entrance floor leading to the corridor consists of a natural rare off-white stone with trims and details in bronze. These minutiae have also been used in other areas to bring about the same concept. Melted bronze and silver sheets of metal cladded to feature walls work in complete harmony with the ebonized macassar paneling. Other walls are finished in polished plaster and upholstered with calf skin. The approach to the bedrooms has also been kept subtle in tones of color to create a textured feature wall behind the beds. Traces of walnut and ebonized macassar have been used to design the bespoke joinery. Radiator cases have been cleverly concealed behind paneling in all rooms.
The en suite bathrooms use the same tones of color with rare natural stone and antique
gold bathroom sanitary ware. The unrivalled combination of distinct architecture, innovative design ideas, quality and attention to detail, Casa Forma has created a truly outstanding spectacle. With huge amounts of quality craftsmanship and sophisticated materials, Casa Forma transformed the apartment into a remarkable living space in tune to the luxury surroundings of Mayfair, setting new standards in the world of design.
For Casa Forma's CEO Faiza Seth and Creative Director Luigi Esposito, the desire to improve the way that people live lies at the root of all Casa Forma work. They believe in providing truly bespoke design that is designed specifically for each client.
Casa Forma's mantra is 'functionality', making each space work as hard as it can to meet one's needs and increase the value of a property at the same time. After the functionality of a property is maximized, Casa Forma's architectural and interior design team designs the interiors based on a clients' personal style, and lifestyle.
Please visit website at http://www.casaforma.co.uk
###