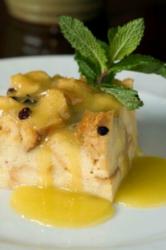 "We noticed people were coming back not just for seconds, but for thirds!"
Lexington, KY (Vocus/PRWEB) February 17, 2011
Combine Kentucky's preferred libation with a regionally-favored sweet treat and the result is pure heaven! Bourbon Bread Pudding. The slightly dense texture of the pudding drizzled with the silky oppulence of sweet buttered bourbon is indescribable and equally irresistable.
A stop on Bleu Plate Tours' Downtown Lexington Walking Tour, deSha's generously shared this recipe with our tour guests... and now we're sharing it with you!
deSha's Restaurant developed a richly decadent version of this dessert just in time for the 2005 Taste of the Bluegrass, an annual tasting event in Lexington. The Bread Pudding won top honors for Best Dessert, and according to Manager Misty Carlisle, the results were intoxicating.
"We knew we had a delicious dessert for the competition, but the response we received from the tasters was unexpected," Misty stated. "We noticed people were coming back not just for seconds, but for thirds!"
Upon returning from the competition to announce the victory to restaurant staff, Misty quizzed the cook, asking if she did something different in that particular batch. The cook responded no, that she did not do anything different and described the ingredients and process. When she announced the ration of bourbon to butter and sugar for the bourbon sauce, Misty understood the happy tasters' desire for seconds and thirds. "The sauce had five liters in a gallon of sauce... when it should have only had one liter!," she quipped.
Bleu Plate Tours is honored and pleased to have deSha's as one of seven stops on their Downtown Lexington Walking Food Tour. The tour samples the bread pudding which always proves to be a hit. In response to continual requests for the recipe, deSha's graciously provided the recipe to Bleu Plate Tours.
deSha's Bourbon Bread Pudding
Pudding
1 cup raisins
1/2 cup brandy
1/4 cup (1/2 stick) unsalted butter
4 cups heavy cream
24 ounces white bread or rolls
6 eggs
3 1/4 cup sugar
3 Tablespoons vanilla extract
Sauce
1 cup (2 sticks) unsalted butter
2 cups sugar
2 eggs
1 cup bourbon

Can use any other type of bread or rolls. If using frozen dough, prepare and cool first. If using frozen prepared rolls, just thaw. Recipe works well with dense, stale or leftover breads as well.
Combine raisins and brandy in small sauce pan. Heat to simmer, cover and set aside. Use a portion of the butter to coat a 2 inch deep baking dish (may require two pans). Melt the remaining butter and set aside to cool. Tear or cut bread into chunks and place in large mixing bowl. Pour the cream over the bread and set aside until soft (10 minutes or more). Do not stir to mix bread and cream - just fold a couple of times gently so bread remains intact. Beat eggs and sugar until smooth. Add remaining ingredients to egg mixture (melted butter, raisins, brandy and vanilla). Toss egg mixture with bread very gently to blend. Pour into pan and bake at 350 until browned and almost set, 45 minutes.
Prepare sauce: Melt butter, stir in sugar and eggs and simmer to thicken. Take pan off of burner and add the bourbon and hold in warm place to serve. Do not cook the bourbon or it will lose it's kick. Mix in after sauce is thickened and taken off of the heat. Serve warm topped with sauce. Can also be served cold.
###