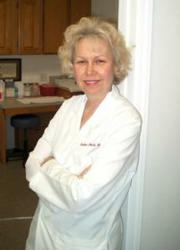 Prescott, Arizona (Vocus/PRWEB) February 08, 2011
Robin Fleck, M.D., founder and medical director of Body Oasis Laser Cosmetic Solutions in Prescott, Arizona, is pleased to announce that Maureen Brogan has recently received her Arizona state certification as a laser technician after training at the National Laser Institute in Scottsdale, Arizona. Maureen, serves as the spa coordinator at Body Oasis medispa and is also a certified medical assistant and certified nail technician. She has been a valued member of Dr. Fleck's team since 2007.
Now having furthered her knowledge and strengthened her skills in the laser cosmetic field, Maureen returns to Body Oasis with a renewed impetus to better our clients' overall health and appearance of their skin. She notes, "Newer and better lasers are being designed each year and with my training I am poised to be able to explain the risks and benefits to my clients and make beauty recommendations they may not have even dreamed were possible."
"It was just the perfect fit for Maureen to continue her education and get her certification," states Dr. Fleck. "I have watched Maureen's progress over the past few years and it is exciting to see her use all of her talents in every aspect of this business."
Maureen joins Lisa Ramirez, certified laser technician, who has been caring for clients at Body Oasis for two years. "Continuing education in the laser industry is essential to ensure that our clients are receiving the best and most up-to-date treatments available on the market today," observes Lisa. "The laser aesthetic industry is taking over many aspects of cosmetic surgery, and treatments formerly done by plastic surgeons and antiaging treatments are now less expensive and recovery is faster with excellent results."
With laser hair removal being the most popular aesthetic treatment in the United States, Body Oasis medical spa is well-equipped with two brand new hair removal lasers for removing hair on all skin types including darker complexions and even tanned skin. Both lasers are painless and fast, providing comfort and convenience at a fraction of the cost of conventional lasers.
"We are the only medi-spa with the Active FX fractional CO2 resurfacing laser between Phoenix and Las Vegas," notes Dr. Fleck, who has performed over two hundred Fraxel skin resurfacing procedures of the face, neck, chest and hands since 2008. "This is the laser of choice for patients with skin laxity, wrinkles, and age spots. Improvement of acne scarring is impressive with one or more fractional laser treatments, making chemical peels and microdermabrasion unnecessary. It can even tighten lax eyelid skin, obviating the need for eyelid surgery."
Another offering from Body Oasis Laser center is the Nd-YAG laser treatment which safely removes facial veins, spider veins on legs, and tightens lax skin on the neck. One of the hottest trends right now is the use of lasers to heat the underlying layers of skin, and thereby force the body to form new collagen. The result is similar to a facelift, without having the risks of going to a surgery center.
For deeper varicose veins or spider veins, endovenous laser ablation and sclerotherapy are also available at the clinic.
The Smoothbeam laser, also available at Dr. Fleck's laser treatment center, improves acne and smoker's wrinkles without downtime. A lunchtime procedure once a month can stimulate the skin's own collagen and fill in fine wrinkles above the lip or in the crow's feet area.
Body Oasis Laser Cosmetic Solutions also boasts the new Palomar tattoo removal laser which can remove large tattoos in minutes and is successful in removing hard-to-clear green pigments. The Palomar treats all types of tattoos from professional and amateur to permanent make-up in addition to unwanted benign pigmentations from sun damage, while minimizing damage to the surrounding skin.
The IPL or the Intense Pulse Light photofacial is also offered at Body Oasis. Patients with fine wrinkles, facial flushing, redness, broken capillaries, rosacea, freckles, and minor sun damage are perfect candidates for rejuvenation with this laser.
One of the most popular procedures being done at Body Oasis today is our signature "liquid facelift" lunch hour procedure. "Women love this fifteen-minute, nonsurgical procedure using either Botox or Dysport, Radiesse, Perlane, or Restylane. This procedure helps to restore volume and fullness to the face to correct eyelid bagginess, sagging jowls and marionette lines," observes Maureen, who assists Dr. Fleck with these rejuvenating makeovers.
Looking younger in today's business climate is essential for career advancement. At Body Oasis, we also offer the Visia computerized skin analysis as a tool for pinpointing your specific aging issues. This technology captures a clear imaging of select facial areas to reveal damage on and beneath the surface of the skin that is not detectable by the naked eye alone. This imaging allows Dr. Fleck to evaluate your skins' health and appearance based on six different criteria that affect your complexion such as folds or creases in the skin, freckles, enlarged pores, uneven skin tones or blotchy skin, and ultra violet spots caused by overexposure to the sun. With the information gleaned from this analysis we are better able to recommend which specific laser or cosmetic dermal fillers would be ideal to keep you looking youthful.
"In this environment of ever-expanding options, choosing a specialist or cosmetic dermatologist you can trust to help you select a treatment and to perform it properly is of the utmost importance. Each of our patients receives personal attention and individual treatment plans that are developed especially for them. Only then will they achieve optimal results," notes Lisa Ramirez. "Dr. Fleck has many years of experience as a laser specialist and cosmetic surgeon, so patients count on her for a professional assessment of what will work best for them."
Cosmetic dermatologist and vein specialist, Robin Fleck, M.D. is a double-board certified dermatologist and internist, recognized by the American Board of Dermatology and the American Board of Internal Medicine. She is the founder and Medical Director of Vein Specialties and Southwest Skin & Cancer Institute in Prescott, Arizona. Dr. Fleck is a fellow of the American Academy of Dermatology, the American Society of Laser Medicine and Surgery and the American Venous Forum.
To learn more about Body Oasis Laser Cosmetic Solutions Medical Spa and laser treatment options please visit or call Maureen at (928) 778-0414
# # #