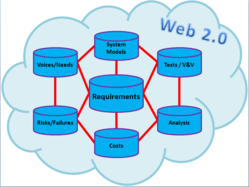 Improved data management and decision-making processes based on getting the right information to the right people at the right time.
Bedford, MA (Vocus/PRWEB) February 02, 2011
Cognition Corporation, a worldwide leader in medical device product development software, announced today the availability of two-way, real-time exchange of information between risk management and requirements management activities throughout the product development process.
With Cockpit, users combine all risk management activities together with requirements management in real time. Risks and requirements communicate within and across projects so users receive instantaneous notification of changes that may impact their design. This combined risk/requirements approach supplies consistent, timely information across product teams. The combination of risk and requirements also allows for real-time flow of information and updates between data sources that are typically isolated. For example, the occurrence of a particular failure can now automatically update the appropriate requirements owners as soon as information is available from the field. This unified approach to risk and requirements also reduces application costs and decreases the authoring process time of requirements, risks, mitigations, and controls. The reuse of data across multiple documents eliminates redundant data sources and lets users efficiently create and reuse content.
According to Xiaobo Wang, a senior Systems Engineer at Medtronic, "Cockpit has provided an environment that synchronizes design improvement/optimization activities with the various functional areas in an organization. This environment provides the potential to help an organization reach operational or even business level optimization. The synchronization of design improvement/optimization activities promotes concurrent information sharing and aligns the design team's local optimum solution with the corporation's global optimum solutions – the goals of a business overall."
This unified approach to product development gives design teams the information they need in real time, on the web, across all projects.
Download the Risk Management overview from Cognition to learn more about how Cockpit combines Risk Management and Requirements management throughout medical device product development.
###