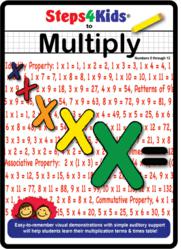 Carlsbad, CA (Vocus/PRWEB) February 20, 2011
As if earning awards such as classroom product "MEDIA of the YEAR", "10 BEST Audio-Visual Products for Children", "DVD of the Year," and others were not enough for this up and coming educational company, Steps4Kids has just introduced its "Steps4Kids to Multiply" DVD that is bound to lure glowing product reviews from educators and parents alike.
The Steps4Kids multiplication dvd teaches the multiplication of all numbers 0 through 12 using easy-to-follow demonstrations, easy to remember rhymes and sayings, and useful self-help strategies to help children remember select multiplication properties (e.g. zero, identity, commutative and associative properties). Each number track shows the times table for the selected number and discusses number patterns where applicable. Single digit times double digit multiplication steps are also introduced to help students develop an understanding of the multiplication process for more advanced math later. Equations are shown both vertically and horizontally to help strengthen rote memory skills.
So that viewers can practice their "mental math", practice tests are included at the end of each number track and with the correct answers presented both verbally and visually to reinforce the correct answers. Equations are also demonstrated in formats that provide greater white space so that the DVD can be used with interactive white boards and other devices with DVD playing capabilities. A special section for teachers and parents is also included with ideas on how to help students using common accommodations and other tips to help teach students with individual learning needs.
"Our goal was to create a DVD that used a variety of teaching strategies in order to engage students with varied learning styles," said Lucile Lynch, co-owner of Steps4Kids, LLC and education advocate.
All DVDs are created and made in the USA and include public performance rights for both home and school use. For more information visit: http://www.steps4kids.com
Prior Products of Steps4Kids, LLC:
1. Steps4Kids to Write Their ABCs (DVD)(Traditional Printing)
"DVD of the Year" (Creative Child Magazine)
"10 Best Audio Visual Products for Children) Dr. Toy
Double Star Endorsement by KIDS FIRST! Coalition for Quality Children's Media
"Editor's Choice" and "5 Star Award of Excellence" The Toy Man®
Seal of Approval (The Toy Man®)
2. Steps4Kids to Write Modern Manuscript (DVD) (Supports D'Nealian®)
Winner "Best Vacation Product" (Educational Skills Builder)
Dr. Toy "Editor's Choice" Award (The Toy Man®)
3. Steps4Kids to Write Cursive (DVD)
Parent's Choice Foundation
Preferred Choice Award (Creative Child Toy Awards)
"100 Best Children's Products" (Dr. Toy)
Editor's Choice Award & 5 Star Award of Excellence (The Toy Man®)
# # #