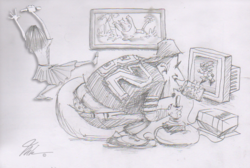 LoveFinderGames a dating site for Social Gamers
(Vocus/PRWEB) February 01, 2011
Adding a new twist to online dating, LoveFinderGames has announced the launch of its fun-filled speed dating aquarium called, "TheKissingFishGame". Singles can join for free!
Online dating has branched into many segments. There are dating sites for older folks like SeniorPeople.com, WealthyMen for sugar daddies, CougarDating for the botox crowd, JDate for Jewish daters and BlackSingles for the Kardashians. Sorry, I watch a little too much George Lopez on TV. What makes LoveFinderGames so different is that it is a dating website aimed at social gamers.
Just a few years ago a stereotypical view of a "gamer" was a kid sitting on a bean bag chair with his hat on backwards pushing a joystick while blowing a huge Bazooka gum bubble. That kid is now 40 years-old, his kid is playing with a Wii and his lips are attached to a beer can. People that grew up playing Pac Man and Sonic the Hedgehog now fit into one of three categories, hard core gamers, casual social game players or they have reverted to curmudgeon mode ignoring today's digital toys.
TheKissingFishGame is designed for the middle, a single person that enjoys Happy Aquarium who is looking for a date. It is soothing yet comical. Tremendous effort has been added to make the experience fun and functional. A player has a choice of (30) goofy fish characters that serve as an avatar. This feature alone separates TheKissingFishGame from any other dating site. It is an underwater speed dating masquerade party.
The 5-Minute set-up is another game changer. Players answer (12) push button questions and write a Twitter-like 140 character description. Choosing an aquarium is the fun part of the process. Start with the basics, age, gender and sexual preferences.
Then it really get's interesting, expanding a search to "world" could find a friend in another country. An ongoing virtual relationship is a total possibility playing TheKissingFishGame. After picking an avatar, an aquarium is filled with fish based on search criteria. After connecting, contact can be made by email or chat.
The first hurdle in the online dating world is giving daters a reason to sign up for a membership. LoveFinderGames charges nothing to sign up, membership is free. A 'free" member can create a profile, choose a KissingFishGame avatar and create custom aquariums. A Premium Membership opens all the doors and only costs $9.95 a month. A player can be featured as the "Catch of the Day", increasing exposure to what would have been an unknown audience. Contact can be made by "Tail Mail" or chat if both parties are online.
They have also created "cyberkiss" a free app that allows Facebook members to fill their aquarium with current friends and drop them a quick note of appreciation.
TheKissingFishGame is the first of multiple titles in production. Project X0X0 is scheduled for Q2 2011.
All this makes LoveFinderGames a great addition to any single's dating strategy.
# # #