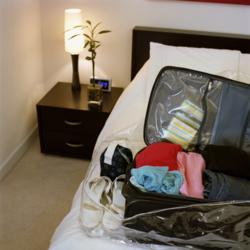 "Hotels now need to take a proactive approach in the battle against bed bugs. There is no guarantee that the next guest that checks into your hotel is bed bug free. BugZip® was designed to stop this vicious cycle and keep the bed bugs out."
Northbrook, IL (Vocus/PRWEB) February 08, 2011
If the last few years haven't been challenging enough to the hospitality industry, now it is being hit by the resurgence of bed bugs. These tiny little creatures are wreaking havoc on hotels, logistically and financially, as well as causing damage to their reputations. For the last 50 years bed bugs have been shown the "No Vacancy" sign in hotels - until quite recently. Today, these tiny hitchhikers have been seen "checking in" to even the most exclusive hotels and resorts. Now hoteliers can fight back with BugZip®,the world's first bed bug resistant luggage encasement.
According to a recent survey about bed bugs conducted by the National Pest Management Association(NPMA), nearly 80% of respondents said their biggest concern is encountering bed bugs at hotels. And one out of five Americans has had a bed bug infestation in their home or knows someone who has encountered bed bugs at home or in a hotel. "Most Americans recognize that bed bugs are back and here to stay," said Adam Greenberg, President and Inventor of BugZip®. "Hotels now need to take a proactive approach in the battle against bed bugs. There is no guarantee that the next guest that checks into your hotel is bed bug free. BugZip® was designed to stop this vicious cycle and keep the bed bugs out."
What can hotels do?
Hoteliers can offer concerned guests a BugZip® upon checking in or add this item to their gift shops for increased revenues. BugZip® luggage and clothing encasements allow guests to protect personal belongings while in a hotel, which prevents bed bugs from hitching a ride in or out. BugZip® is made of heavy-duty clear vinyl that resists tears and can easily hold large objects. Simply place a suitcase, garment bag or other belongings inside and zip it up securely. The specially designed three-sided bed bug resistant zipper allows easy access to guest clothing and belongings while "zipping" out bed bugs when they are on the move. It comes in four convenient sizes and is simple to use. BugZip® is perfect for use in hotels, resorts, cruise ships, and other travel destinations. "Guests bring stowaway bed bugs into hotels and then bed bugs nest and multiply quickly in hiding places such as mattresses,walls and furniture. Bed bugs then hitch a ride out on a guest's clothing and luggage and infest their homes and the cycle begins all over again," said Greenberg. "BugZip® helps both guests and hotels keep bed bugs away."
What can hotels do to educate their employees?
Hotels need to take a more proactive approach to deal with the bed bug epidemic. They can begin by training employees how to inspect for bed bugs. Bed bugs are reclusive, but they do have tell-tale signs that can easily be spotted by well-trained staff. Hotels should require housekeeping to inspect sheets, mattresses, and headboards daily to look for live bugs and dark brownish to black spots. Early Detection will help catch an infestation before it has spread, reducing the number of rooms that will need to be taken out of service. A hotel should also develop a protocol and educate customer service on how to deal with guest complaints. The reception staff should be taught how to react to a customer complaint or fear of bed bugs. How an employee reacts could be the difference between getting sued, being profiled on the evening news, or preserving a guest's image of the hotel. Management should also develop a procedure to handle reported bed bug problems. If an infestation is discovered, hotels must address the situation promptly. The longer they wait, the greater the chance the infestation will spread, affecting more customers, leading to lost revenue and higher eradication expenses.
How can hotels stop the cycle?
Luggage and clothing encasements are an important part of stopping the vicious bed bug cycle. BugZip® is entomologist tested for advanced resistance to bed bugs. Encasing luggage and personal belongings during a stay can give hotels and their guests secure peace of mind. BugZip® is now available for purchase by the hospitality industry at American Hotel Register Company. If you would like to learn more about BugZip® visit http://www.bugzip.com.
About Vantzen Products Inc.
At Vantzen Products Inc. our mission is to be an innovator in bed bug prevention. BugZip® is our revolutionary attempt to stop the bed bugs in their tracks.
Founded in 2006, Vantzen Products Inc. was started on a quest by its President, Adam Greenberg. After learning of the horror of living with bedbugs and finding them under his mattress while taking a cruise with his family, Adam set out to stop the spread of bed bugs into people's homes. Extensive research and development has produced the innovation of BugZip®, the world's first bed bug resistant luggage encasement. For more information, visit http://www.bugzip.com.
###