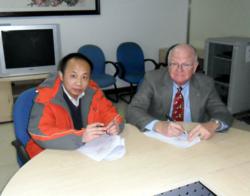 We are very excited about the relationship we have established with CSIMC, and we think that working together we can improve the cold chain for shipping temperature sensitive pharmaceutical and biotech products in China
Beijing, People's Republic of China (Vocus/PRWEB) February 08, 2011
Active CC Boxes, LLC is pleased to announce that it has entered into a multi-year distribution agreement with China National Import/Export Corporation (CSIMC), a subsidiary of China National Pharmaceutical Group Corporation (Sinopharm), the largest pharmaceutical company in China. Under the agreement, CSIMC has exclusive rights to sell the Kodiak™ shipping containers into the territory defined as The People's Republic of China, Hong Kong, Macau, and Taiwan.
"We are very excited about the relationship we have established with CSIMC, and we think that working together we can improve the cold chain for shipping temperature sensitive pharmaceutical and biotech products in China," said John Howe, Chief Executive Officer of Active CC Boxes, LLC.
According to Howe, the growth of the pharmaceutical and biotech industry in China is phenomenal and will only continue to grow. Working together, CSIMC and Active CC Boxes can build a strong pharmaceutical cold chain to handle the temperature sensitive pharma and biotech products that will move about China in the future.
Active CC Boxes designs and manufacturers high tech Kodiak™ shipping containers capable of keeping the contents of the container in the refrigerator temperature range of 2 - 8°C (35.6°F – 46.4°F) for up to 120 hours (five days) without any onboard power. Its rugged construction enables it to be used many times making it a reusable, sustainable shipping container.
Howe said, "Together we have begun the process of studying the market, collecting market information, analyzing the market data, and formulating the marketing plan for the Kodiak™ products in China. I look forward to a strong commercial relationship with CSIMC as we work together to grow both our companies."
About CSIMC
China National Scientific Instruments and Materials Import/Export Corporation (CSIMC) is a sole subsidiary and core business unit of Sinopharm, China's largest pharmaceutical and healthcare industry group. Since its establishment, CSIMC has been pursuing its principle of providing specific, integrated and comprehensive services to China's healthcare institutes, R&D institutes, higher education institutes and manufacturing and mining companies by introducing advanced technology and key equipment into China. For more information, please visit http://en.csimc.com.cn/Cxx/cxx.asp?sClassCode=C01.
About Active CC Boxes, LLC
Active CC Boxes, LLC designs and manufacturers high tech shipping containers for shipping temperature sensitive pharmaceutical and biotech products. The Company rents Kodiak™ containers by the trip or by the month and maintains a depot system in key locations for managing the flow of the containers. For more information about Active CC Boxes, please visit http://www.activeccboxes.com or email info(at)activeccboxes(dot)com.
# # #