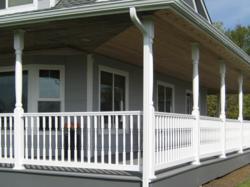 Fairway offers products that are easy-to-install and are already well known to contractors and deck builders.
Batavia, IL (Vocus/PRWEB) February 08, 2011
Parksite is pleased to announce that it is now distributing Fairway Vinyl Railing Systems in New Jersey and the Tri-Cities area, which includes New York City, the Hudson Valley and Eastern Pennsylvania. Parksite currently distributes Fairway's products from their Ohio and North Carolina branches as well.
Fairway is a leading manufacturer of high-quality alternative building products in its industry. Made in the United States, its vinyl railing is sold in boxed railing kits and meets all residential and commercial building codes. Parksite will primarily offer the Contour and Landmarke railing lines.
"Fairway is an established and trusted brand with an extensive catalog of vinyl railing solutions," said Rich Marsh, Parksite regional sales manager. "Fairway offers products that are easy-to-install and are already well known to contractors and deck builders. After proving success in Ohio and North Carolina, we know Fairway will be a big hit with builders on the East Coast as well. We are very excited."
Fairway offers a complete system including railing, structural porch posts, railing gates, post sleeves, post wraps, caps and trim rings.
Fairway Contour railing is 100% PVC compounded with high levels of titanium dioxide pigment to ensure UV resistance and impact modifiers for long term durability and structural integrity. It's the preferred choice of many builders, contractors, architects and homeowners across the nation. It's available in white, tan, and khaki, and carries a limited lifetime warranty on the finish.
The Landmarke Railing Kit offers aluminum reinforced top and bottom rails and a patented bracket system. Fairway also offers a commercial-grade powder-coated aluminum available in white, bronze and black.
Parksite is known for its partnerships with dealers and will provide staff training, catalogues and detailed information on becoming a Fairway Vinyl Dealer. For more information or to purchase Fairway products, call Parksite at (800) 631-6450.
Parksite is an employee owned company that provides a combination of direct sales, market development and progressive distribution services within the building materials supply chain. We recognize that each customer, manufacturer and product has unique requirements and we customize our services to meet those needs. Parksite defines its position in the supply chain by investing resources in activities that result in accelerated market acceptance of new products. More information about Parksite and its products is available at http://www.parksite.com.
# # #