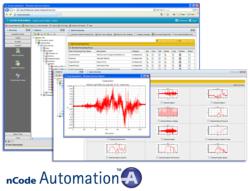 Southfield, MI (Vocus/PRWEB) February 01, 2011
nCode, a leading brand of durability, test and analysis products offered by HBM, announced today that Ford Motor Company has deployed nCode Automation software as its corporate solution for storing, sharing and processing measured road load data. nCode Automation provides a web-based collaborative interface for sharing test data and associated information.
Data collected from proving ground vehicle testing, referred to as road load data, is a critical enabler for computer aided engineering. It provides required inputs for product verification as part of Ford's Global Product Development System. This test data and associated information is accessed by engineers from, for example, CAE Verification groups for Chassis, Body, and Powertrain. Over 100 registered users at Ford now have the ability to search, share, retrieve, and process archived data from over 1.5 terabytes of data from 800 vehicle-related sets of road load data and a total of 2,800 projects using nCode Automation.
The system also generates and stores statistics and additional summary information to be used across the Ford organization. nCode Automation integrates with corporate standards including well-known industry databases and web-application servers to provide a scalable solution that allows secure global data access via the Internet.
###