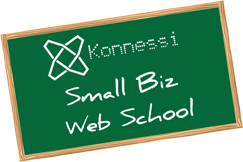 It goes back to the old proverb: give a man a fish and you have fed him for a day. Teach a man to fish and you have fed him for a lifetime.
Providence (Vocus/PRWEB) February 01, 2011
In today's vast technological society, businesses that do not utilize online marketing face significant challenges. Indeed, 70% of consumers depend on the web for purchasing decisions while 34% of consumers who research a product online will make an in-store purchase. Unfortunately, small businesses with little to no web presence are at a distinct disadvantage in the competitive online market. Often on a tight budget, and dwarfed by the established internet barons of big business, small business owners may struggle to gain visibility at even a local level. Good news comes to small business owners, however, in the form of Small Biz Web School, an innovative program launched in January that enables business owners on a budget to harness the power of the Internet in their search for growth and success.
The Small Biz Web School aims to fill the niche between do-it-yourself web design programs such as Intuit and the costly services of web development firms. Explains co-founder Andrew Kelley, "A lot of build-it-yourself software leaves you with only a few, static pages that are difficult to update while web development firms are prohibitively expensive for small business owners". As a result, Kelley and co-founder Jay Flynn conceived of a company that would not only help businesses to create a dynamic, cutting-edge website, but would then teach them the necessary skills to compete and win in a technological economy. Through tutorials, one-on-one discussion, and specialized training, clients of Small Biz Web School learn to manage social media campaigns, optimize their search engine ranking, and manage their sites, all at a reasonable cost. "It goes back to the old proverb," Flynn remarks, "'Give a man a fish and you have fed him for a day. Teach a man to fish and you have fed him for a lifetime'."
Konnessi, LLC, one of the fastest growing web development companies in Rhode Island, launched Small Biz Web School earlier this month. Established in 2010, Konnessi has experienced unparalleled growth and already boasts a portfolio of clients that includes Anthony's Pier 4, Military Home Link, Bricco, Rubiano & Company, and Gordon's Fine Wines.
For more information or a free evaluation, visit http://www.smallbizwebschool.com.
###