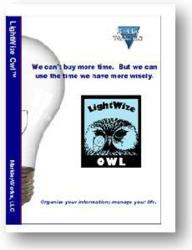 We can't buy more time. But we can use the time we have more wisely.
Tampa, Florida (Vocus/PRWEB) February 01, 2011
MarkleyWorks, LLC, a privately-owned small business, announced today the release of LightWize Owl, a new concept in personal information management. LightWize Owl, which operates in a Windows environment, allows the user to harness the power of data base management without having to understand the intricacies of the internal mechanisms. Data entered by the user into simple portals form the basis for integrated, useful reports available at the touch of a button.
"This is by no means the first iteration of this product," said Ross Markley, Co-Owner and Technical Director of MarkleyWorks. "We have worked hard to make it as simple as possible for users of all ages – from 10 to 110. LightWize Owl has been in development for the past 5 years. We have incorporated countless suggestions and recommendations from a diverse group of people throughout the country. We all know that time is not for sale, but you can use it more wisely, and that's as close to buying time as you can get right now."
There are six Modules in Owl – Contacts, Events/To Do List, Money, Things, Links, and Tips. Together, they establish a framework in which virtually everything a person needs to know is captured, organized, analyzed, and reported on at the touch of a button.
According to Dale Markley, Co-Owner and Business Director, "I joined this company because I believe in its principles and its products. Prior to my introduction to Owl, my life was a scattered mess of disconnected electronic and paper files, spreadsheets, yellow stickies and missed appointments. Now, I get what I need when I need it, I control my activities instead of having them control me, and the time I save is awesome. I'm really trying, but I have not yet been able to find anything I can't do with Owl."
In fact, MarkleyWorks managers use the Owl to manage its own business affairs. This year, a complete report, line item by line item, of all expenses and income was compiled and printed at the touch of a button. A summary report of expenses arranged by the categories required to file federal and state tax returns was also generated. The entire process took less than 10 minutes.
For more information on the many ways that Owl is already being used, visit the company's website at http://www.MarkleyWorks.com.
When asked who might benefit from LightWize Owl, Dale added, "Anyone who has a Windows-based PC and lives in this galaxy will find Owl useful. People from all walks of life and of all ages have one thing in common – the need to be organized so we can spend our time accomplishing things rather than searching for the same information again and again. The third grader expanding her PC horizons, the college student who needs to track classes and assignments, the young couple managing a household and a family, the small business owner, the baby boomer keeping up with prescriptions and medical history … anyone, anywhere, will find value in LightWize Owl. And that value will last a lifetime; it's a gift of time and peace of mind that will continue to grow throughout the years."
About MarkleyWorks, LLC:
MarkleyWorks is a privately-owned company based in Tampa, Florida. It was established for the purpose of creating "quality of life" software that would help the average person gain control over the personal computer and its use as a tool to manage personal information. While the primary objective of the Owl is to organize data and allow push-button retrieval of important information, the system also saves time, reduces stress, and provides a solid springboard to success in today's complex world.
# # #