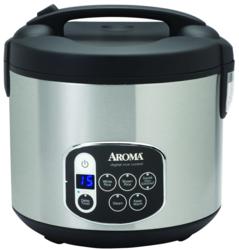 Aroma rice cookers can prepare an entire healthy meal with just the press of a button.
San Diego, CA (Vocus/PRWEB) February 01, 2011
It's no secret that healthy eating is essential to a healthy heart. But at the end of another hectic day, it can be difficult to devote the necessary time to making a healthy meal at home. So dinner options are reduced to stopping by the drive-thru, ordering delivery or nuking a quick bite in the microwave. By now many New Year's resolutions have come and gone, but with February being American Heart Month, why not take the time to reexamine these unhealthy eating habits?
What if there was a way to cook a healthy, heart-friendly meal at home that didn't require lengthy ingredient preparation, standing over the stove, and constant monitoring?
Well, with an Aroma rice cooker, there is. Aroma rice cookers can prepare an entire healthy meal with just the press of a button— steaming meat and/or vegetables while rice cooks below.
It's the perfect way to create a heart-healthy meal, without having to sacrifice more of the scarce free time that is left in the day.
Aroma rice cookers automatically switch over to warm once the meal is cooked to perfection, so there's no need to monitor the cooking. So there's time to play with the kids, sit back and relax or even finally make use of that treadmill.
In fact, rice is one of the most heart-friendly food options available. It's low in calories and fat and contains no cholesterol, sodium or trans and saturated fats. Brown rice is a 100 percent whole grain and enriched white rice is a great source of B vitamins, such as folic acid which has been shown to help maintain a healthy heart.
And, if steamed salmon (rich in Omega-3 fatty acids) and asparagus (an excellent source of B vitamins, foliates, fiber and beta-carotene) is combined with rice, it creates a meal that tastes great and takes excellent care of the heart. Aroma's website, http://www.AromaCo.com, includes an extensive rice cooker recipe section full of easy, healthy meal ideas like this.
Aroma, America's Favorite Rice Cooker, has been the top-selling rice cooker brand in the US for years. Aroma products can be found in Walmart, Target, Costco, Sam's Club and many other fine retailers.
# # #