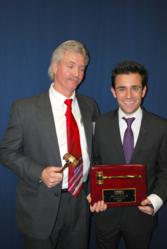 Exton, PA (Vocus/PRWEB) February 09, 2011
Ed Hauck, Partner of Rouse Chamberlin Ltd and Director of Purchasing for Rouse Chamberlin Homes, was named President of the Home Builders Association of Bucks/Montgomery Counties at their January meeting. Hauck is a 30 year veteran of the building industry.
"Membership with the HBA provides unique opportunities for those involved with home building," noted Hauck. "It offers members the chance to network with peers in similar markets and across the country, share challenges and successes and join forces using one voice to protect our industry. Additionally, having access to a vast number and cross-section of members from all facets of the industry allows differing perspectives on trends, new technologies and the constantly changing industry."
Ed has worked at Rouse Chamberlin Homes for over 19 years. Previously, he held the title of Purchasing Manager. Prior to his positions at Rouse Chamberlin Homes, Ed worked with several builders of local homes, including C. W. "Mickey" Schrenk of Bucks County.
As part of his commitment to the industry, Ed has served on the Board of the Bucks/Montgomery HBA. He also serves on the board of Builder Partnerships, which serves as a national liaison for local builders to large supply manufacturers.
Ed participates in the semi-annual Habitat for Humanity Home Build sponsored by the Home Builders Association of Chester and Delaware Counties and led by Rouse Chamberlin Homes. In addition, he was a co-organizer and is a continuing participant of Friends of Lou and their annual Top of the World event. The fundraiser honors the memory of local building project manager Lou Schisler and raises funds for trade scholarships to Williamson Trade School of which Lou was a graduate. Ed also coaches soccer in Newtown, PA.
Ed is a lifelong resident of Bucks County.
For more information, please visit http://www.RouseChamberlinHomes.com.
The Home Builders Association of Bucks and Montgomery Counties is a non-profit trade association representing the residential construction community throughout the Delaware Valley Region. Members include small, medium and large volume home builders, and developers, as well as professionals and trades people who work with and support our industry.
Since 1978, Rouse Chamberlin Homes has been building homes and thriving neighborhoods focused on the home buyers' needs. The result has included exceptional customer satisfaction results and industry recognition including "National Builder of the Year" and "America's Best Builder" awards.
# # #