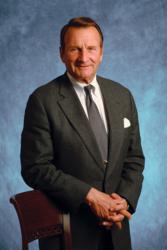 There is no higher praise than to be singled out by your boardroom peers for going above and beyond the call of duty.
Nashville, TN (Vocus/PRWEB) February 01, 2011
William F. Andrews, a member of the Board of Directors for CCA, the nation's largest and oldest partnership corrections company, has been named as a 2011 Outstanding Director by The Outstanding Directors Exchange. Andrews is one of only six corporate directors to receive the honor from a pool of more than 50 peer-nominated candidates.
"We believe there is no higher praise than to be singled out by your boardroom peers for going above and beyond the call of duty," said Heather Wolf, director of the Outstanding Directors Program. "Bill Andrews helped CCA achieve a remarkable turnaround, safeguarding jobs, the provision of an important service and shareholder value."
The Outstanding Directors Exchange since 1998 has recognized more than 100 corporate board leaders for their commitment to corporate governance, with achievement and leadership exemplified during a crisis, business transformation or company turnaround.
"Bill embodies the best of the commitment, discipline, savvy and integrity demanded of Board leaders. He has served our company – our stakeholders and our shareholders – with unwavering accountability and high standards," said John Ferguson, Chairman of the CCA Board of Directors.
Andrews' record of Board leadership and involvement is extensive. He assumed the role of director and chairman of Executive Committee on CCA's Board of Directors in July 2008, after serving as CCA's Chairman of the Board since August 2000. He was a member of CCA's Board from 1986 until 1998, prior to the company's merger with Prison Realty Trust.
As a principal at Kohlberg & Company since 1995, Andrews has significant experience in financial markets and finance. Andrews was former chairman, president and CEO of Scovill Manufacturing. He also served as chairman, president and CEO of Singer Sewing Machine Company; president and CEO of UNR Industries, Inc.; chairman, president and CEO of Amdura Corporation; and chairman of Katy Industries.
Most recently, he served as chairman of Northwestern Steel and Wire Company and was a director of Juvenile and Jail Facility Management Services, Inc. He has also served as chairman of several privately held companies: Utica Corporation, Schrader Bridgeport International, Inc., Scovill Fastners, Inc. and Allied Aerospace Corp.
Andrews is a graduate of the University of Maryland and holds a master's degree in business administration from Seton Hall University.
About CCA
CCA is the nation's largest provider of partnership corrections to federal, state and local government, operating more than 60 facilities, including more than 40 company-owned facilities, with approximately 90,000 beds, in 19 states and the District of Columbia. In addition to providing the residential services for inmates, CCA facilities offer rehabilitation and educational programs, including education, vocation, religious services, life skills and employment training and substance abuse treatment. For more, visit http://www.cca.com and http://www.ccacommunities.com.
# # #