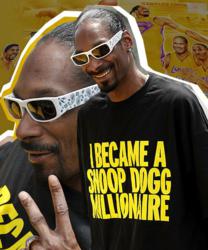 "We aggressively prosecute...anyone who...harms the Serious Pimp brand," Damian Kutzner, Serious Pimp
Hollywood, CA (Vocus/PRWEB) February 01, 2011
Serious Pimp, Inc. has taken aggressive legal action to protect its copyrights, trademarks and other valuable intellectual property by filing a lawsuit in federal court against an individual and other related companies (some of which Serious Pimp alleges to be fictitious) that allegedly stole proprietary designs and marketed unlicensed copies of the company's popular OG BANDANA™ sunglasses.
Serious Pimp® was founded in 1999 by serial entrepreneur Damian Kutzner in partnership with celebrity entertainer Snoop Dogg and Bishop Don Magic Juan to embody the hip hop and mixed martial arts lifestyles in apparel, accessories and lifestyle products, including hats, t-shirts and sunglasses. Immediately popular with dozens of music, sports and entertainment celebrities, Serious Pimp products are worn, featured and seen in hit music videos, commercials, and in televised and live music, sports and cultural events.
The OG Bandana sunglasses were introduced in 2001 and are among Snoop Dogg's favorite sunglasses. The lawsuit alleges the defendants sold the infringing sunglasses at a devalued price point almost ten times less than the retail price of Serious Pimp's OG Bandana sunglasses.
"Serious Pimp is a high quality brand that markets high quality products worthy of the many celebrities who wear them. Our sunglasses have never been intended as a mass market product line and selling them at such low prices undermines the value of the products and our brand," said Damian Kutzner, CEO of Serious Pimp. "The actions of this individual and his cohorts have diminished the value of our brand and negatively impacted our sales."
According to court documents, the lawsuit charges Greg Stefanik and other defendants with misleading the public by the unlicensed manufacture and sale of sunglasses that infringe on the Serious Pimp "Original Gangsta" OG BANDANA design. Court documents show the defendants admitted to replicating Serious Pimp's distinctive OG BANDANA design and to manufacturing and selling the imitation sunglasses in convenience store channels across the nation, including 7-Eleven stores. Stefanik told Serious Pimp that Lowrider Magazine, a well-known brand, granted the defendants a license agreement permitting them to advertise, sell, and distribute the infringing sunglasses under the brand name "Lowrider" and in its popular magazine and websites, according to his deposition.
According to court documents, Stefanik admitted to soliciting Serious Pimp for the purpose of manufacturing the OG Bandana sunglasses in 2007 and verified exhibits confirm that Stefanik had an adamant interest in manufacturing and selling the OG Bandana sunglasses. The deal never went through because of Stefanik's sudden disappearance immediately after Kutzner sent him the artwork for the sunglasses.
Two years later, in 2009, according to Damian Kutzner, Serious Pimp executives discovered that products similar to Serious Pimp's and bearing the OG BANDANA design were being sold on the lowridershadesonline.com website, which claimed to be an affiliate of the defendants and Lowrider Magazine. According to court documents, Stefanik admitted to selling thousands of the infringing sunglasses without any authorization.
"Serious Pimp" is very serious about enforcing its intellectual property rights against infringements and knock-offs," said William E. Levin of Brookstone Law Firm in Newport Beach, lead litigation counsel for Serious Pimp. Levin is the author of a leading intellectual property and trademark treatise, "Trade Dress Protection," now in second edition. Renowned for his expertise in intellectual property law, including trademarks and related litigation. Mr. Levin's clients have included American Airlines, American Express, Bank of America, the British government, CitiBank, the Coca-Cola Co., Dial Soap, Fila, Foster Farms, Gibraltar Savings & Loan Assoc., Hansen's Beverage Co., Hard Rock Café, Izod, Kaiser-Permanente, Laura Ashley, McKesson Corp., the San Francisco Chronicle, See's Candies, Sony, Sonoma Mission Inn, The Laguna Beach Pageant of the Masters, Safeway Stores, Teva Pharmaceuticals, Thompson-Brandt, Unilever, Wells Fargo Bank, Winterland Productions and Wrangler Jeans among others. Levin currently serves on the Advisory Board of the prestigious United States Patents Quarterly (USPQ), and his largest jury verdict to date was $143 million.
"We simply will never allow competitors to ride on our client's coattails, trade on their hard-earned reputation, or infringe on Serious Pimp's intellectual property rights in any way," said William E. Levin. "Wrongdoers will be held fully accountable, both legally and financially. We will send out a strong message through aggressive litigation and otherwise: 'Don't knock us off or you will regret it.'"
According to court documents, before filing the lawsuit, the defendants were warned by Serious Pimp of their infringing activity through multiple cease-and-desist letters, all of which were ignored. "Although my client has attempted to work amicably with the defendants since the discovery of this infringement, they have continued to be uncooperative and evasive," said Nada M. Alnajafi of Pivotal IP, P.C. in Santa Monica, Serious Pimp's intellectual property co-counsel. "In such a clear-cut case of infringement, the defendants' complete disregard for the severity of the claims against them is remarkable."
According to Damian Kutzner, due to new facts discovered through the litigation, Serious Pimp anticipates adding additional defendants and pursuing further claims against ongoing infringers. "We aggressively prosecute to the full extent of the law anyone who violates our trademarks, copyrights, or patents, misappropriates our proprietary intellectual property rights and designs, or harms the Serious Pimp brand," Damian Kutzner, CEO of Serious Pimp said.
Filed on July 4, 2010, the case is Serious Pimp, Inc. v. Greg Stefanik et al, Case number SACV10-01070 JVS (MLGx) in United States District Court, Central District of California.
About Serious Pimp
Serious Pimp designs sunglasses, accessories, and clothing that blend Hip Hop style with MMA attitude. Since its inception in 1999, Serious Pimp has been a supporter of extreme sports such as mixed martial arts, including sponsoring a long list of fighters. Serious Pimp was founded by serial entrepreneur, business mogul and company CEO Damian Kutzner and is led by its President Snoop Dogg and Chairman of the Board Bishop Don Magic Juan. Serious Pimp has recently signed licensing agreements with popular television personality The Situation™ and its sunglasses and clothing are worn by entertainers and MMA fighters such as Snoop Dogg, Tha Dogg Pound, the Bishop Don Juan, Kimo Leopoldo and Jake Shields. For further information visit http://www.SeriousPimp.com.
# # #