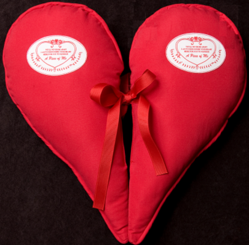 Money can't buy the response my wife gave me, when I gave her the "A Piece of Me" Exchange Heart
Victorville, CA (Vocus/PRWEB) February 01, 2011
"Keep your arm and your leg and a few extra bucks in your pocket!" according to John Farace, partner/member of Inseparable Treasures LLC; a new ecommerce introduced this year with a unique gift that will say I love you over and over again. The "A Piece of Me" Exchange Heart is a meaningful keepsake that will tell your loved one "I give you my heart" for less than the average cost of a dozen roses. Whether you tuck a piece of jewelry, theater tickets or just write a hand written love letter inside the hearts pocket, your loved one is going to treasure the gift more than ever because it came from your heart.
The "A Piece of Me" Exchange Heart was designed by Kathy Farace from a soft micro fiber red material perfect for holding close with comfort. It has a pocket on the back, faceted with the Inseparable Treasures LLC distinctive logo which conveys that the heart of a loved one is the most treasured gift. When loved ones are together, each side can be united by the ribbon attached. When exchanged, the half of heart symbolizes that "A Piece of You" belongs to someone else. The most important feature of the Exchange Heart is the message embossed on each side of the front of the heart... "We'll never be apart; I am tucked inside your heart, here for you to squeeze "A Piece of Me".
This is what our consumers are saying about the "A Piece of Me" Exchange Heart:
"Money can't buy the response my wife gave me when I gave her the "A Piece of Me" Exchange Heart"
"Flowers are wonderful, candy is great and diamonds are a girl's best friend but the gift of the heart I will treasure it forever."
"My boyfriend and I use our Exchange Heart over and over to give each other special surprises. It's actually been a lot of fun to see what he's going to do next."
For $34.95 (+tx/S&H where applied) The "A Piece of Me" Exchange Heart does not only make a perfect Valentine's Gift but can be used for a wide variety of gift giving reasons. Inseparable Treasures LLC has brought to the ecommerce market a user friendly website full of meaningful ideas to use their product, reminding us that the gift of love can be given any time, for all of time.
Inseparable Treasures LLC was formed in 2009 by John Farace based upon the first design of the Exchange Heart. The idea expanded making the Exchange Heart also available in an ACU digital or Desert Digital materials to accommodate our troops serving away from home. Children's books are also available at the website written and illustrated by Kathy Farace, the designer of the Exchange Heart. "A Piece of Me" features the original concept for the design of the Exchange Heart.
"Here and There" book for children, in a boy or girl version, was written specifically to help heal the wounds of children from divorce. This book, a must read and the Exchange Heart would be an excellent way to say I love you this Valentine's day to your kids experiencing such challenges.
For more information about Inseparable Treasures LLC or to contact John or Kathy for an interview; go to http://www.inseparabletreasures.com contact us page, Inseparable Treasures Face Book/Twitter or e-mail john(at)inseparabletreasures(dot)com
###