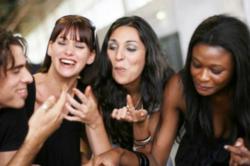 Underground dining is the latest culinary adventure trend. And now they're offered in Lexington.
Lexington, Kentucky (Vocus/PRWEB) February 01, 2011
A new 'underground' dining event is being offered by Bleu Plate Tours. 'Bleu Plate Confidential' is an event based around underground dining concepts.
The premise: Guests are invited to a dinner prepared by a local chef (guaranteed to be fabulous food). It is not held at a restaurant, but in an unconventional place, like a warehouse, rooftop, office, etc.
The meal will be themed to match the location. The meal, chef and location remain a secret until a few days prior to the event. Ticket holders will receive location information as well as a password that they will be required to give at the door (just like the Speakeasys of yesterday).
The first Bleu Plate Confidential will occur on Saturday, February 26, 2011 at an undisclosed location. Chef Andrew Myers of Bellini's will prepare a four-course meal and facility tours are offered (and recommended).
Tickets are all-inclusive and are now on sale. A limit of 48 tickets will be sold so persons interested are encouraged to purchase early.
Bleu Plate Tours is a Lexington-based company that offers walking food tours of Downtown Lexington. The tours feature local restaurants and provide tour guests with not only a sampling of the local cuisine and offerings, but an overall understanding of Lexington's history and the layout of downtown.
2011 tickets for the Downtown Lexington Walking Food Tour are now on sale as well.
# # #