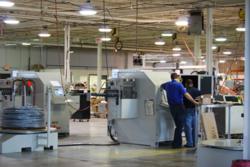 "Our being picked to host 130 top-notch Lean experts was a thrill."
(Vocus/PRWEB) February 01, 2011
One hundred thirty attendees of the Association for Manufacturing Excellence (AME) Conference in Baltimore MD toured MARLIN STEEL WIRE PRODUCTS three times in one week The group consisted of plant managers, plant engineers, manufacturing engineers, and Lean Black Belts. They attended the AME's annual conference in Baltimore Maryland in a program that featured the best of "all things lean" in a hands-on, results-oriented conference. The program consisted of 70 company presentations, 40 workshops and 8 keynote speakers.
The highlight of the program to many of the professionals was the series of factory tours of local companies that have dedicated themselves to Lean Manufacturing. Marlin Steel was one of several firms picked to tour. The AME organizers sought hosts to share knowledge on how to improve operations by increasing delivery speed, advancing safety, expanding quality and reducing waste. These were the key themes that the manufacturing professionals took home to their plants.
Drew Greenblatt, Marlin Steel's President, stated "Our being picked to host 130 top-notch Lean experts was a thrill. In the same week, these seasoned veterans visited Northrop Grumman and General Motors as well. I am both honored and humbled to be associated with these excellent manufacturing professionals."
Marlin Wire buys steel wire coils and sheet metal made from recycled steel from old cars, refrigerators, and washing machines. Marlin converts these recycled steel coils and sheets into precisely- engineered wire baskets and hooks and sheet metal fabrications for industrial users like General Electric, Honeywell, Boeing, Toyota, Siemens, Roche, Novartis, Baxter, and Pfizer.
During the tour, the group, mostly manufacturing engineers, saw how Marlin Steel's quick-changeover teams reduced setup times and batch sizes for custom wire baskets; how Raw Materials dropped seamlessly through the production line in the wire forming department; how Work In Process was dramatically reduced through sheet metal fabrication cells with single-piece flow; how Finished Goods was slashed by reducing lead times for stainless steel wire baskets; how shared weekly performance bonuses helped beat production targets; and how cross-training skills matrix is used to boost skills, cover weekly schedules, and broaden team member work experience. All the while, Marlin has maintained a safety focus that has reduced Workman's Compensation costs dramatically, a welcome result for having gone more than 775 days without an incident.
One of the "secret sauces" at Marlin is its engineering staff. Marlin Steel's staff is almost 25% mechanical engineers and designers. Chris Elwood, one of the first engineers on board, was pleased to report, "Custom sheet metal fabrication and wire basket designing is our sweet spot. The attendees were impressed with the level of engineering we brought to the client. We really understand the client's fit, form, and function and it showed. If we get the 3Fs correct, we usually get the job."
Marlin Steel has become a leader in the quest for lean excellence. Recently, Marlin was featured in a book about Lean Manufacturing entitled, "Going Lean Fieldbook: A Practical Guide to Lean Transformation and Sustainable Success" by Stephen Ruffa. Ruffa's book describes Marlin Steel's transformation from a commodity manufacturer to a precision sheet metal fabricator and custom wire basket manufacturer, proud of its prestigious clients like Toyota, Honda, BAE, Northrop, and Caterpillar. Formerly a domestically-focused bagel basket maker, Marlin now is exporting to more than 33 countries, including Greenblatt's favorite customer location: Taiwan. "Imagine, from Baltimore to Taipei," he is proud to report.
Drew Locher, Managing Director of Change Management Associates and AME's Mid-Atlantic Regional President, stated, "It is always a good opportunity to reflect after such events. One can get a sense of where companies are with regard to Operational Excellence, identify 'gaps' in the current body of knowledge…This is a great indicator that people are looking beyond the 'tools' to recognize that the concepts must be integrated in the fundamental way organizations manage on a day-to-day basis. This is a good sign indeed. We have always said that the tools are a means to an end. The end (not that there really is an end) is a culture of continuous improvement in all organizations."
Locher continued that, "Interestingly, many attendees and the organizations that they represent are relatively new to lean, at two years or less. This is an excellent reminder that organizations are at different points in their transformation. Therefore, we in the lean community must be prepared to assist regardless of where a company may be in that journey from those just starting out to those that have been 'at it' for a number of years."
Greenblatt summarized Marlin's position: "We will have to be at this full-time, for as long as the eye can see. There is always a procedure that can be improved, a process that can be quickened, scrap that can be trimmed, and quality that can be sharpened. I look forward to the challenge of continuous improvement."
# # #