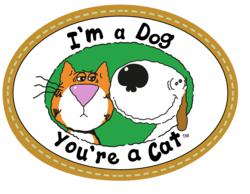 How wonderful it would be if we were able to discover a new insight that helped us all communicate more effectively with the special people in our lives!- Marla Press
Houston, TX (Vocus/PRWEB) February 03, 2011
Author Marla Press will be at the Plano, Tx, Neiman Marcus store on Saturday, February 5th from 2-4 PM. She will be autographing her new book, "I'm a Dog, You're a Cat (Love Lessons From our Furry Friends)".
Ms. Press has hit upon the cosmic notion that people are inherently different at their very core; humans are hard-wired to be more like a feline or more like a canine. Once people discover and define their inner dog or cat tendencies, they can learn many love lessons from their furry companions as they explore the intrinsic personality traits of cats and dogs.
In a recent Interview, Marla explained the genesis of her new book:
"A few years ago I was introduced to a pretty cool guy. I really liked him and for me that was a big deal. I was one of those girls that have dated a lot but gets bored pretty easily and then moves on to the next adventure."
"This one I couldn't understand at all! I went out of town for work, which I do very often, and there would be days, I mean like 3 or 4, that he wouldn't call. What in the world did this mean? I would e-mail to a friend of mine and ask what she thought his behavior meant. Is it that he doesn't like me that much? Is it that he is involved with other relationships? What could this indifferent behavior mean?"
"She and I exchanged e-mails back and forth and it became abundantly clear that she and my new man were hard-wired exactly alike. She would explain to me that she behaved exactly the same way with her husband. It had nothing to do with me, or him, it was that she was well, busy!"
"We laughed at the similarities of our situations. She came to a conclusion that she and my man were behaving like cats; a bit aloof, focused and wanted attention when THEY wanted attention. It then occurred to me that my behavior, and her husband's, were exactly like my dogs. They live to please! Thus, the idea was born to write a book about relationships in the context of dogs and cats. Light, easy, funny and colorful, that was what I wanted to convey."
"I told my new 'kitty' about the idea, although I was a bit reluctant to show my hand, and he thought it was fantastic. I shared the idea with pretty much everyone I came into contact with, and it became clear to me that everyone had a funny story to tell. So, here we are today just one year from when we first started talking about "I'm a Dog You're a Cat."
This is Ms. Press's first book in what will become a series of reader submitted stories.
Says Marla, "I want to reach out to readers and have them share stories of the dogs and cats in their lives. Most people are in relationships or have dogs or cats. There are lessons to be learned by sharing our experiences with others."
Saturday Appearance:
Neiman Marcus-Willow Bend
2201 Dallas Parkway Plano, TX 75093
2-4 PM
Publicist: Dan Robinson 832-326-0593
# # #