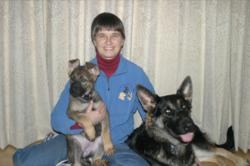 Hartford, CT (Vocus/PRWEB) February 01, 2011
A new year means an opportunity for life changes, traditionally in the form of resolutions. There are the standard resolutions revolving around health habits, and there are also very specific resolutions, such as owning a first home, starting a new career, or finally taking a long awaited vacation. Regardless, the central theme of each is change. This year, Guiding Eyes for the Blind's Puppy Raising Program is asking residents in Northern Connecticut to change not only their own lives for the better, but also the life of someone in need.
Guiding Eyes for the Blind is looking for puppy raisers - volunteers that take 8 week old puppies into their homes, and love, nurture, and educate them for a 12 to 16 month period before sending them off to their calling as a guide dog for a blind or visually impaired person. For someone without sight, a Guiding Eyes dog provides a life changing independence, as well as unconditional love and support.
Guide dogs aren't born with the skills to keep a blind person safe; they are carefully trained and prepared for the job. Guiding Eyes puppy raisers provide hours of patient teaching and numerous socialization journeys. Hartford resident Kim Michalewicz is a repeat raiser currently raising her sixth guide dog, Pewter. "Each puppy is so different and comes with a variety of personalities and challenges," says Michalewicz. "I like knowing that what I'm doing will help an individual lead a more productive and independent lifestyle."
One such individual is Tina Ciarciello of Wethersfield, CT. Having been diagnosed at birth with Retinopathy of Prematurity, Ciarciello is blind in her left eye and has partial vision in her right eye. Ciarciello received her third Guiding Eyes dog, a Yellow Labrador named Khaki, this past July. "I love that Khaki has light coloring because I can see some of the expressions on her face," smiles Ciarciello.
For Ciarciello, a Guiding Eyes dog means companionship, independence, and freedom. "With Khaki by my side, I enjoy long walks, hiking, and dinner outings with my closest friends – all of whom have guide dogs!" Lee Nordin, the program's director, notes that, "without the extraordinary dedication of our puppy raisers, we would simply be unable to provide guide dogs to the blind and visually impaired."
The Guiding Eyes Puppy Raising Program is comprised of more than 400 volunteers from Maine to North Carolina. Puppy raisers come from all walks of life and include couples, families with children, young adults, and senior citizens. Some already have forever pets of their own, while others commit to raising guide dogs as a way to give their love to a new pet each year. No matter the circumstance, all puppy raisers agree that the program is emotionally rewarding. Raisers live in urban, suburban, and rural areas, in apartments, townhomes, and single family residences.
Puppy raising classes are held on Monday evenings in either Granby or Avon, CT. Please call 1-866-GEB-LABS or visit http://www.guidingeyes.org/volunteer/puppy-raising/ for additional information on the Puppy Raising Program.
About Guiding Eyes for the Blind
Guiding Eyes for the Blind (http://www.guidingeyes.org), an internationally accredited nonprofit guide dog school, was founded in 1954 to enrich the lives of blind and visually impaired men and women by providing them with the freedom to travel safely, thereby assuring greater independence, dignity and expanded horizons of opportunity. Since that time, Guiding Eyes has become one of the foremost guide dog schools in the world, graduating more than 7,000 guide dog teams. It provides superbly bred Guiding Eyes dogs, professional training and follow-up support services to students at no cost to them and depends on contributions to fulfill its mission. The comprehensive cost of breeding, raising, preparing, training, and supporting a Guiding Eyes team is $45,000. Guiding Eyes for the Blind's Headquarters and Training Center is located in Yorktown Heights, NY and the Canine Development Center is in Patterson, NY.
###