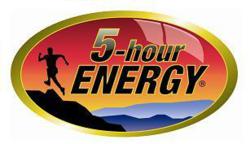 After finding all of the tokens and completing the form, participants will be automatically entered to win a one-year supply of 5-hour ENERGY®
(Vocus/PRWEB) February 01, 2011
When it comes to offering fan contests, 5-hour ENERGY® is racing full speed ahead. On Tuesday, Feb. 1, the 5-hour ENERGY team will reignite the 5-hour ENERGY Racing Scavenger Hunt Contest.
5-hour fans are invited to go online in search of the 15 race car tokens that our 5-hour ENERGY Racing Crew has hidden. Tokens will be strategically placed throughout the 5-hour ENERGY Website and other sites like the 5-hour ENERGY Facebook Fan Page, Twitter profile and the Energy Shot Blog. Each of the tokens lists a code word and code number. Fans will keep track of these and use them to fill out the Racing Scavenger Hunt Contest entry form. After finding all of the tokens and completing the form, participants will be automatically entered to win a one-year supply of 5-hour ENERGY shots in addition to other great prizes.
5-hour Fans are expected to exhibit the same kind of determination as the 5-hour ENERGY race car driver Steve Wallace does, which means locating all the tokens won't be easy. However, if 5-hour ENERGY fans need help, they're invited to tweet @5HourEnergyGuy on Twitter for clues. Participants have until Monday, Nov. 14 to submit their entries.
The 5-hour ENERGY Racing Scavenger Hunt Contest is one of two contests currently offered by the 5-hour ENERGY team. The Featured Fan Contest invites fans to submit a Featured Fan Photo and an accompanying description of 1,000 characters or less that proves they deserve to be named a Featured Fan. The most powerful submissions will earn a spot on the famed wall of Featured Fans within 5-hour ENERGY's Online Fan Zone as well as 72 free bottles of 5-hour ENERGY. Additional information regarding these contests, 5-hour ENERGY Racing team, 5-hour ENERGY commercials and 5-hour ENERGY downloads can also be found within the online Fan Zone.
About 5-hour ENERGY®
5-hour ENERGY® is a liquid energy shot that provides hours of energy and alertness. It contains a blend of B-vitamins and amino acids, zero sugar and four calories. It is available at retail outlets in the United States and Canada as well as throughout the U.K., Ireland and the Netherlands.
# # #