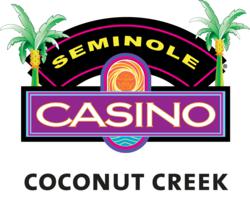 It's true – they could be our next big winner. But hey, we're in the business of chance and making people's dreams come true.
Coconut Creek, Fla. (Vocus/PRWEB) February 01, 2011
The man who gave his guests a free trip to space, an oil well, and served dinner on a platform hundreds of feet in the sky, is now bringing 15 of the rescued Chilean miners – who must be among the luckiest people (on or under) earth – to a popular South Florida casino.
Steve Bonner, general manager of Seminole Casino Coconut Creek has earned a reputation in the casino industry for his crazy, attention-grabbing promotion ideas. But inviting guys who were lucky enough to survive against all odds to a casino known as "Florida's Jackpot Capital" could backfire on him.
"It's true – they could be our next big winner. But hey, we're in the business of chance and making people's dreams come true," said Bonner.
The casino became widely referred to as the sunshine state's jackpot capital after a string of million dollar-plus slot machine hits over the past three years.
But there's a serious side to the miners' visit too. It's part of an inspirational program, "Heroes & Miracles" – with all proceeds going to three charity groups -- at Seminole Casino Coconut Creek on Feb. 4 at 7 p.m.
Other guests at the $100 per person event will be Mike Jones and Ginger Littleton, hero and heroine of the Panama City School Board shooting, All My Children actor/war veteran J.R. Martinez, Paralympian Bradley Johnson, and Ana Gospodinoff. They will tell their life-changing stories and be honored during a special tribute. Tickets are available at the casino cashier's cage or through http://www.brownpapertickets.com. All money will be donated to the United Mine Workers of America Miners Aid Fund, the American Cancer Society and Disabled American Veterans.
On Feb. 3 at 2 p.m. a press conference will be held at the casino with all of the honorees.
ABOUT THE HEROES & MIRACLES
The world watched anxiously last year as 33 coal miners in Chile courageously dealt with being trapped 2,300 feet below the earth's surface for 69 days before they were miraculously rescued in an endurance-bending ordeal that demonstrated the power of faith and the human spirit. Fresh from a vacation at Disney World in Orlando with their families, 15 of the miners will be on hand to share their story of miraculous survival against all odds. Miners on hand to be honored will be: Mario Sepulveda, Daniel Herrera, Jonny Barrios, Mario Gomez, Pablo Rojas, Carlos Barrios, Jimmy Sanchez, Pedro Cortes, Renan Avalos, Claudio Acuña, Samuel Avalos, Florencio Avalos, Alex Vega, Carlos Mamani, and Franklin Lobos.
Mike Jones was hailed as a hero for saving the lives of Bay County, Florida school board members on Dec. 15 when he stopped gunman Clay Duke, who opened gunfire at a public meeting. School Board member Ginger Littleton snuck up behind the shooter and tried to knock the Smith & Wesson pistol from his hand with her purse. Duke fired shots at school board members, before trading 15-20 shots with Jones, a retired detective on duty as the school district's chief security officer. Before the incident, Jones was well-known in the Florida panhandle community for his role as Salvage Santa, collecting and repairing bicycles for under-privileged children.
Jose Rene Martinez (J.R. Martinez) was severely burned and nearly killed when a land mine exploded under his military Humvee while serving in Iraq in 2003. His injuries required more than 30 surgeries. Today he's an in-demand motivational speaker and actor who plays combat veteran Brot Monroe in the ABC-TV soap, "All My Children." He is also a spokesman for Operation Finally Home and for the Iraq War Hero Foundation. "The more heroes we have, the better off our world will be," said Martinez. "All of us can have an unimaginable effect on one person with the simple concept of making him or her feel cared for, appreciated and that they matter. Most important, you will learn far more than you ever expected, and that is what's in it for you."
Bradley Johnson, a Pompano Beach attorney, grew up in Milwaukee. After attending the University of Florida and taking his law school entrance exams, his automobile hydroplaned into a guardrail on Interstate 75, resulting in the partial loss of both of his legs. Upon law school graduation, he got involved in disabled sports, eventually leading to his participation in both competitive sailing and sitting volleyball for the U.S. Team. He competed in the 2000 Paralympic Games in Sydney, Australia, the 2004 Paralympic in Athens, Greece in 2007, the Parapan American Games in Rio de Janeiro, Brazil, and in the 2010 Sitting Volleyball World Championships. In addition to working as an attorney, today he uses his experience and success – in sport and at work – to help positively change public attitudes and perceptions toward disability through The Hartford, founding sponsor of U.S. Paralympics®.
Ana Gospodinoff endured countless surgeries, radiation treatments, and chemotherapy sessions for breast cancer and brain tumors. Unfortunately, the cancer spread to her meninges, bones and several other spots in her body. Yet, she was determined to make the best of her situation for herself and three children. The doctors told her that she wouldn't recover. But her husband Victor didn't accept that prognosis and Ana agreed to undergo four aggressive treatments simultaneously. The American Cancer Society chose her as their honorary female cancer survivor at a Relay for Life event in her hometown of Miami. Then, shortly after the event, doctors were unable to find any cancer in her liver, lungs and bones. She was miraculously cured. Today she is a regular participant of the non-profit Cancer Support Community of Greater Miami and active in the Breast Cancer M.A.P. (Mind Affects the Physical) Project.
The Pavilion at Seminole Casino Coconut Creek is located at 5550 NW 40th Street, Coconut Creek, Fla., just east of State Road 7 (U.S. 441) and north of Sample Road on 40th Street. For more info call 954-977-6700 or visit http://www.seminolecoconutcreekcasino.com.
About Seminole Casino Coconut Creek
Open 24 hours a day, 365 days a year, Seminole Casino Coconut Creek offers more than 1,900 gaming machines including Las Vegas-style slots: Playboy, Carnival of Mystery, Golden Monkey, Millionaire Sevens, Mayan Riches and Lion Dance, wide area progressive slot machines: Star Wars, Indiana Jones, Dirty Harry, Time Machine, and Monopoly, and new theme games: Star Trek, Dean Martin, Hot Hot Penny, and Reel 'Em In.
The casino also features non-stop action in its smoke-free Poker Room upstairs for separate gaming pleasure, with a wide array of tournaments for all types of players. Live games include Texas Hold 'em, 7-Card Stud, and Omaha tournaments from $85 to $1,050. In December 2010, the casino added The Site, its newest building offering 400-plus gaming positions, 70 new blackjack seats, a non-smoking gambling area, a new restaurant, The Whistle Stop and the Wrecking Bar. The Site derives its name from the facility's overall theme – that of a construction site – complete with an actual lunch wagon in its restaurant. In 2007, Seminole Casino Coconut Creek went under a $32 million expansion which included the addition of a valet porte cochere entrance offering direct access to the new 6,000 square foot Fresh Harvest restaurant, Nectar ultra-lounge, a new Players Club, and additional casino space. The casino also offers the Sunset Grill, located in an outdoor traditional chickee.
Seminole Casino Coconut Creek is located just east of State Road 7 (U.S. 441) and north of Sample Road at 5550 NW 40th Street. For more information call 954-977-6700. Visit http://www.seminolecoconutcreekcasino.com.
Britta Schlager, Seminole Casino Coconut Creek; 954-283-2812; cell 954-579-7901; Britta.Schlager(at)stofgaming(dot)com
Dan Mackey, Bitner Goodman; 954-703-7932, cell 954-401-6168, dan(at)bitnergoodman(dot)com
###