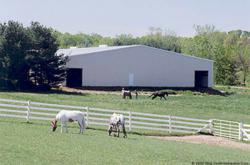 The steel buildings are beautiful. The main building has dormers and they all have windows and barn squire sliding doors.
Pittsburgh, PA (Vocus/PRWEB) February 01, 2011
Mark Ford Stable Inc. recently purchased and constructed a fourth Olympia Steel Building supplied by Universal Steel Buildings Corp., adding to its growing high-end stable complex in the upstate New York area known as "The Cradle of the Trotter". Previous to the purchase of his fourth Olympia Steel Building, owner, Mark Ford, had purchased and constructed three Olympia pre-engineered steel buildings to house his high-end equine boarding stables. Gathering ideas from all over North America and with the help of Olympia Steel Buildings design consultants, sales technicians and engineers, Ford incorporated the best of these ideas into the design of his facilities.
"These state-of-the-art metal buildings are more like warehouses than barns," commented Ford. The pre-engineered steel buildings have 30 ft. ceilings and house 282 stalls. Openings on the top, front and between stalls promote air circulation. Multiple skylights let in daylight so that electrical lighting is only required at night, saving on electricity. The energy-efficient metal buildings systems are weather-tight. "Even in the winter and without additional heating, the indoor temperature never dips below 42 degrees," agreed Ford.
"The steel buildings are beautiful. The main building has dormers and they all have windows and barn squire sliding doors," commented Olympia Sales Technician, Jill Leonello.
In April of 2008, the Times Herald Reporter stated, "most race tracks are doing away with their barns." The Ford Stables state-of-the-art stable complex is reversing this trend with their extensive use of energy-efficient and cost-effective Olympia Steel Buildings. (Sourced from USTA Hoof Beats).
Mark Ford Stable Inc., a private company in Goshen, New York, specializes in horse training. In business since 2008, the company is located within 100 miles of five major racetracks and only five miles from Historic Track and the Harness Racing Hall of Fame. They offer boarding stables, equine therapy, including horse health hydrotherapy, and horse transportation in their 19,850 square ft. facilities. Situated on 76 ½ acres, their facilities are home to some of the top trainers on the east coast.
About Olympia Steel Buildings
Olympia Steel Buildings® are supplied by Universal Steel Buildings Corp, an industry leader in pre-engineered steel buildings for over 40 years, and sole supplier of Olympia Steel Buildings® to commercial, industrial, agricultural, residential, government, military and civilian agencies. Olympia Steel Buildings come with their outstanding weather-resistant PBR roof, or you can opt for their patented Zeus-Shield® standing seam metal roofing system. GSA approved Olympia Steel Buildings set themselves apart by using better materials, better quality control, exceptional customer service and industry-leading warranties, including a 25-year rust through perforation warranty. Olympia pre-engineered steel buildings are precision engineered and expertly erected to give you a "tight" building that reduces air infiltration into the building saving on HVAC costs. They offer 12 energy efficient colors for metal buildings to reduce cooling costs and come with a 40-year warranty against chipping, cracking, peeling or blistering. Because of such key features, Olympia pre-engineered steel buildings can qualify under LEED Green Building guidelines. For more information about Olympia Steel Buildings, visit their website http://www.OlympiaBuildings.com or call 888-449-7756 for more information.
###