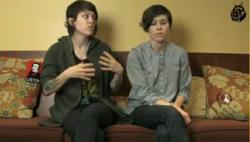 Tegan notes, "Sainthood for me is a really interesting record to look at as a whole because it's a very collaborative-feeling record... It's our most rock, upbeat record because of that -- There's all this energy being poured into the same piece of art."
San Diego, CA (Vocus/PRWEB) February 01, 2011
In a recent interview with Tegan and Sara X1FM learned about the twins early-influences, how they collaborate, and their thoughts on their newest record Sainthood.
The sister's share about the careful relationship between being individual songwriters and creating a cohesive group sound; Sainthood marks the first time the sisters wrote a song together. Sara notes that Tegan's very specific way of arranging music balances her more artistic, free-flowing style. Reflecting on Sainthood, Tegan notes, "Sainthood for me is a really interesting record to look at as a whole because it's a very collaborative-feeling record... It's our most rock, upbeat record because of that -- There's all this energy being poured into the same piece of art."
In another recent interview, Gary Lightbody, frontman for the band Snow Patrol stopped in our studios while on the "Up to Now" tour. Lightbody shares his opinion of The Beatles and what they meant to pop music and Snow Patrol's Late Night Tales album, a compilation released in 2009. Lightbody points to LCD soundsystem, MGMT and Death from Above as the influences behind their new single "Just Say Yes."
Additionally, Lightbody indicates what direction the group is headed, "I think that the future will be a combination, a mixture of all kinds of things we've been listening to for years... we've always relied too heavily on guitars, it's time to branch out." Snow Patrol is set to release a yet-unnamed album in the Spring of 2011.
About the X1FM Network
The X1FM Network is a online radio community where music, video and interaction collide. Located in San Diego, California, X1FM offers seven commercial-free music stations where fans have the opportunity to request songs and interact with DJ's and each other. The exclusive on-demand library allows fans to enjoy artist interviews, studio sessions and live musical performances. Listen, Watch and Interact for yourself at http://www.x1fm.com
# # #