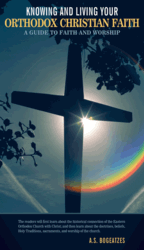 New Providence, NJ (Vocus/PRWEB) February 01, 2011
Rarely does a book, in any genre, deliver a read that is as breathtaking in its depth as it is in its scope. This is an even greater challenge for Christian theology tomes. Encapsulating thousands of years of history, while addressing contemporary concerns, is certainly a tall order. A.S. Bogeatzes attempts to fulfill that order with his expansive new book, Knowing and Living Your Orthodox Christian Faith: A Guide to Faith and Worship(published by WestBow Press).
Bogeatzes wrote Knowing and Living Your Orthodox Christian Faith to help Christians to better understand the doctrines, beliefs, Holy traditions, faith, sacraments and worship of the Christian church. Bogeatzes details the origins of the Christian religion and the connection of the Orthodox Christian Church to Jesus Christ, His apostles, the early church fathers and the Seven Ecumenical Councils.
Bogeatzes also details the Divine Liturgy, the effects of reading the Holy Bible, the fruit of prayer and the interconnectedness of all.
"If we still have doubts in our minds about the existence of a mighty power, our God," Bogeatzes writes, "then all we have to do is to look all around us. Everything is arranged in an orderly manner, and there is a grand purpose in every aspect of the human, animal, and plant kingdoms – and the planet earth within an infinite universe. The evidence that is presented in this book truly confirms that God is with us and all around us."
About the Author
A.S. Bogeatzes was born of parents who emigrated from Greece to Western Pennsylvania, where he and his three sisters were born and raised. Bogeatzes' parents were strong Orthodox Christians and encouraged him to be the same. He earned a master's degree in chemical engineering and was the Sunday School director of his church for more than 20 years. Now retired, Bogeatzes has compiled his life mission in Knowing and Living Your Orthodox Christian Faith, which he dedicates to the memory of his beloved wife.
WestBow Press is a strategic self-publishing alliance of Thomas Nelson, the world's premier Christian publisher, and Author Solutions, Inc. (ASI)—the world leader in the fastest-growing segment of publishing. For more information, visit http://www.westbowpress.com.
###