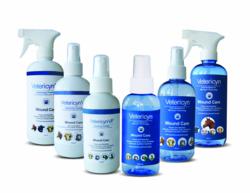 I have found Vetericyn to be a simple and quick solution for managing skin irritation. We use Vetericyn at the Dog Psychology Center and it works.
Rialto, CA (Vocus/PRWEB) February 01, 2011
Innovacyn™ Inc., a U.S-based healthcare company, announced today that Vetericyn®, its revolutionary range of animal wound care products, is now available in the United Kingdom (U.K.) for use on equines, companion animals and livestock.
Vetericyn is the first, completely non-toxic, broad-spectrum topical spray product on the market. It is a one-step solution for minor wounds, cuts, scratches, abrasions, skin irritations and more. Vetericyn is antibacterial and antifungal. It is based upon unique and patented technology that mimics the body's own immune system. Vetericyn products were first launched in the U.S. 18 months ago.
Vetericyn is used throughout the United States and Canada on horses, cats, dogs, birds, exotics and other companion animals. Veterinarians and pet experts alike recommend the product based upon its efficacy, safety and ease of use.
"I have found Vetericyn to be a simple and quick solution for managing skin irritation," explains Cesar Millan, renowned dog behavior specialist, author and star of the National Geographic hit series "Dog Whisperer with Cesar Millan", a U.S.-based television show in which he helps dogs and their owners overcome behavioral issues. "We use Vetericyn at the Dog Psychology Center and it works."
"There really isn't any aspect of horse care that we haven't utilized Vetericyn for," said Dr. Brad Gordon, DVM. "The ability to manage the animal successfully has gone way up with a very low complication rate because it is so easy to use."
Australian equine expert Clinton Anderson has used Vetericyn on his animals with great success. "Since the (Vetericyn) solution is literally as safe as water, I was able to apply the product near the delicate facial area," he said. "It didn't sting or irritate. In fact, how fast Vetericyn went to work was unbelievable. This revolutionary technology should be seen as vital for your animal's health care."
Vetericyn will be available in its over-the-counter (OTC) formulation via local retail outlets in 500ml, 250ml and 120ml bottle sizes. In addition, Vetericyn VF will be available through veterinarians throughout the U.K. Vetericyn VF is a special, professional formulation of the product and is approximately double the strength of the original Vetericyn OTC product. Vetericyn is steroid‐free and antibiotic‐free, which makes it an ideal product to use on show animals as it tests free.
Innovacyn is partnering with Battles, Hayward & Bower Limited to bring the Vetericyn family of OTC products to the U.K.'s large animal and equine market. Established in 1832, Battles continues to be at the forefront of the animal health and equestrian industry in the U.K. and overseas.
For further information on the Vetericyn family of products, visit http://www.vetericyn.com. For further information on where to buy Vetericyn products within the U.K., visit http://www.battles.co.uk.
About Innovacyn Inc.
Based in Rialto, Calif., Innovacyn Inc. is a privately-held American company that was formed for the purpose of providing premier human and animal healthcare products based on advanced scientific research. For more information about Innovacyn, visit http://www.innovacyn.com. To learn more about the Innovacyn brands, buy product or find an authorized dealer in your area, visit http://www.puracyn.com or http://www.vetericyn.com.
###