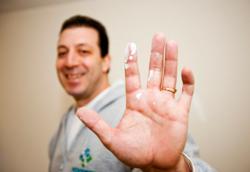 Now it is time to give back and serve our community.
Atlanta, GA (Vocus/PRWEB) February 01, 2011
The Pedowitz Group (TPG), the world's largest and most experienced demand generation agency, has made "service" a company-wide initiative for 2011. To promote this initiative, TPG partnered with the Atlanta division of Habitat for Humanity for a day of service on January 26, 2011.
More than 50 TPG employees from across the country convened in Atlanta to work in partnership with Atlanta Habitat to build two homes – one on Miller Reed Avenue and another on Cascade Place – both located south of the city.
The service project, which was organized by the agency as part of its annual company meeting, is one way The Pedowitz Group is demonstrating its dedication to service – both to customers and to the community.
In addition to the day of service with Atlanta Habitat, TPG is offering employees two days of paid leave in 2011 to do service work in their own communities. The company is also adopting a 1-1-1 program. Starting this year, TPG will donate 1% of its equity, 1% of its time and 1% of its products to charitable causes.
"Service is an important part of our company culture," said Jeff Pedowitz, president and CEO of The Pedowitz Group. "We have experienced exponential growth over the past year and this is largely due to the exceptional level of service we provide to our customers. Now it is time to give back and serve our community. By making this day of service a part of our annual company meeting, we hope to send a clear message that we are committed to service and that we encourage and support our people in serving their communities." Jeff adds "You have to admit, this is also a whole lot of fun!"
Next year, as part of the firm's annual employee awards ceremony, an employee who has exhibited outstanding service work throughout the year will be honored with the first TPG Community Service Award.
About Atlanta Habitat for Humanity
Atlanta Habitat for Humanity, one of more than 1,500 U.S. affiliates of Habitat for Humanity International, is a nonprofit organization dedicated to providing opportunities for affordable homeownership to working families. Since 1983, volunteers from corporations and from faith-based and civic organizations have worked in partnership with qualified homebuyers to construct affordable, green, quality homes, which are then purchased through no-interest mortgages. To date, Atlanta Habitat has built nearly 1,100 homes in the City of Atlanta and the metropolitan area. For more information, visit http://www.atlantahabitat.org.
About The Pedowitz Group
The Pedowitz Group (TPG) is the world's largest, full service demand generation agency. With a focus on delivering marketing and sales automation solutions, TPG drives sustainable revenue and return on investment for global clients. TPG helps clients create and execute demand generation strategies and tactics that generate top line revenue. TPG coined the phrase Revenue Marketer® in 2009 and it is now a registered trademark of the company. Services include strategy, program design, system selection, implementation, integration, creative services and outsourced demand generation. Customers include such industry leaders as Comcast, Deutsche Bank, Intel and Palace Sports and Entertainment. For more information on how TPG helps clients become successful Revenue Marketers®, please visit http://www.pedowitzgroup.com.
# # #