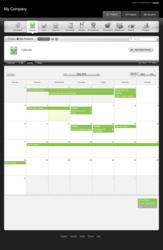 By allowing SMB's to combine and make use of different technologies in one place, companies will better compete by working faster and more efficiently. Centralizing assets is essential for increasing productivity and reducing internal costs
Los Angeles, CA (Vocus/PRWEB) February 02, 2011
Projecturf, the popular web based project management software, offers Small-to-Medium sized businesses the flexibility to sync and access their events with common calendar software such as iCal, Outlook, and Google. SMB's and freelancers will also benefit from a file sharing solution that lets users collaborate on, set advanced permissions on, and share links to documents and folders hosted by Dropbox.com and Box.net. "The vast majority of businesses operate on multiple local systems and cloud-based Web apps, which creates a critical need for data integration. By allowing SMB's to combine and make use of different technologies in one place, companies will better compete by working faster and more efficiently. Centralizing assets is essential for increasing productivity and reducing internal costs," says Chuck Pearson, CEO of Projecturf.
Projecturf now offers the following features and enhancements to all new and existing users:

Calendar Syncing: subscribe to Projecturf events from any popular calendar app such as iCal, Outlook, Firefox, or Google by copying and pasting the link found in the calendar section. Use the global calendar feed to sync all project calendars or simply choose one project at a time. When adding or editing events in Projecturf, the events will appear in the other calendar automatically, therefore requiring no additional work by the user.
Dropbox.com & Box.net Integration: simply copy the link to a specific file or folder in Dropbox.com or Box.net and add it to the Documents section. Set advanced permissions to determine who can view and access the link in Projecturf. Making changes to the file will not change the original link, and therefore users will always have the latest version without any additional steps required.
User-Interface Upgrades: use the new Ajax action panels by hovering over an item to quickly and easily modify project data. The previous action buttons have been moved to one panel for simplifying use of the app, speeding up performance, allowing more visual space for important data such as tasks, while also producing a smoother and cleaner UI.
Speed Enhancements: notice much faster page loading times when accessing sections with hundreds or thousands of entries. Input, edit, and view data without unnecessary waiting.
With a heavy emphasis placed on the design and usability of their project management software, Projecturf releases significant improvements to the User-Interface by removing action buttons and consolidating them into stylish action panels throughout the entire application. The new streamlined look also provides users with consistency across sections for ease-of-use. Additionally, page response times have been increased considerably for SMB's and freelancers with tons of data in their projects, as typically seen in the Task and Ticket sections. These speed enhancements allow for much quicker navigation as well as instantaneous page loading when entering and editing data in the system.
Projecturf offers a 14-day risk-free trial. All business plans come with unlimited storage space and no cap on users, project managers, or features. Visit http://www.projecturf.com for more information.
###